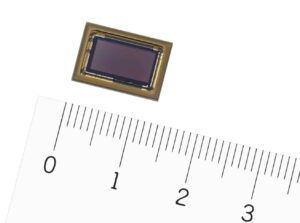 Sony has announced the release of the IMX324, a new 1/1.7-type stacked CMOS image sensor equipped with what the company claims is the industry's highest resolution 7.42 effective megapixel RCCC filter for forward-sensing cameras in advanced driver-assistance systems (ADAS). The IMX324 is expected to offer compatibility with the "EyeQ 4" and "EyeQ 5" image processors currently being developed by Mobileye for use in ADAS and autonomous vehicle technology.
This image sensor is capable of approximately three times the horizontal resolution of conventional products, enabling high-definition image capture of distant objects such as road signs of up to 160 meters away. Moreover, the sensor is equipped with a pixel binning mode achieving the high level of low lighting sensitivity of 2666 mV. This capability enables the capture of images such as pedestrians or obstacles, even in dark situations. The sensor is equipped with a unique function that captures dark sections at high-sensitivity settings as well as bright sections at high resolution alternatively, enabling high-precision image recognition when combined with post-signal processing.
The efficient stacked design of the IMX324 features a layered pixel array and signal processing circuit, allowing for a compact size and low power consumption while still delivering high resolution.
The new sensor also has a security feature that protects the output image from being altered in any way, which according to Sony is a first for image sensors in the automotive cameras vertical.
The sensor is on track to meet the AEC-Q100 Grade 2 reliability testing standards for automotive electronic components by June 2018. Sony has also introduced the ISO-26262 automotive functional safety compliant development process to ensure that design quality satisfies the functional safety requirements for an ASIL B(D) level automotive product.