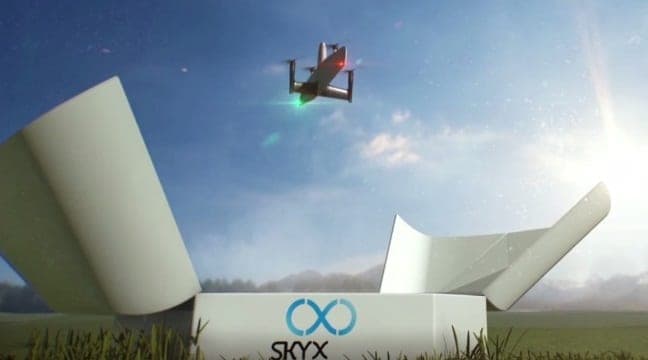 Silvus Technologies has announced that its StreamCaster series of MN-MIMO radios has been selected by SkyX, a designer and manufacturer of an integrated system for aerial monitoring of long-range infrastructure. At the core of this system is SkyOne, a UAV (unmanned aerial vehicle) that vertically takes off and lands (VTOL) like a helicopter, then transitions to forward flight, like a conventional airplane. SkyX has chosen the Silvus StreamCaster 4200 (SC4200) to be its wireless data link for command/control and video servicing the oil and gas industry.
The SC4200 will enable military- grade wireless video, data and voice communications, as well as the ability to create an ad-hoc self-forming/self-healing mesh network. This powerful method of wireless connectivity is a natural fit for UAVs in the oil and gas industry, which demand consistent, bi-directional communications for long-range operations.
Paired with the proper antenna, Silvus radios allow the aircraft to fly long distances with consistent connectivity. Each SC4200 is equipped with 2×2 MN-MIMO RF technology at the core. The radios feature transmit beamforming that vastly increases the signal range. Complex spatial multiplexing improves throughput while space-time coding enhances overall strength. Data rates up to 100+ Mbps are supported and the system includes up to 128GB for on-board storage of high- resolution maps. All communications are bi-directional with ultra low latency.
"After looking at all potential solutions on the market, the engineers at SkyX chose the Silvus radios," said Nir Rikovitch, SkyX Vice President of R&D. "Our criteria consisted of technical specifications, pricing, case studies and ongoing support. Silvus excelled in all these areas."
Aimed at the oil and gas industry, the SkyX solution allows companies to monitor millions of miles of pipelines around the world, eliminating reliance upon costly aerial manned or road vehicles. SkyOne can travel more than 100 kilometers on a single charge, and remain in the field using strategically placed xStation recharging locations, potentially saving large costs in preventative monitoring. Because each xStation is equipped with a Silvus SC4200, 24/7 connectivity is enabled during recharges.
"Each SC4200 functions as another node in the overall topology of the entire mesh network," explained Rikovitch. "With full mesh coverage, we can create a limitless and scalable fleet of xStations and UAVs covering large areas and distances."
The long-range is key, and is why SkyX searched for a unwavering method of high-endurance, always-on, bi-directional transmission between base stations and remote UAVs. Companies can control one, two or an entire fleet of UAVs and monitor exactly what is happening at any time using live-feed HD video from the Silvus SC4200s.
"The rugged Silvus StreamCaster radios provide a full mesh topography for our fleet of automated UAVs for pipeline monitoring in even the most punishing environments," added Rikovitch. "They're a proven system with a level of robustness that is perfect for both our UAVs and our base stations."