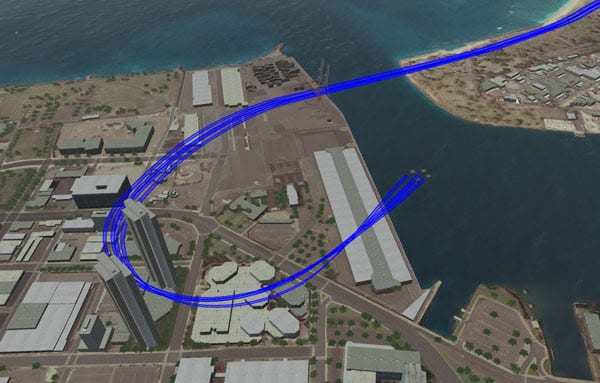 VT MÄK has announced the release of version 4.5 of its VR-Forces simulation environment. The VR-Forces software is a complete solution for creating and editing scenarios in realistic 3D simulated environments. The powerful simulation engine can model many aspects of the battlefield including human entities, vehicles, terrain, and weapons and communications systems.
VT MÄK has added a wide variety of new features to this major release, as well as including many new vehicle models such as Urban Aeronautics' Air Mule UAV (unmanned aerial vehicle), quadcopter drones, and unmanned surface and ground vehicles.
Highlights of the new features include:
Behavior and Entity Models
Improved vehicle movement on roads, including turn navigation on city streets and obstacle detection
Fast roping animation for soldiers disembarking from helicopters
Follow behavior for aircraft has been dramatically improved.
Helicopters take wind and the weight of cargo into account when they calculate fuel consumption
Randomized simulation objects
High fidelity sensor simulation
Terrain
Dynamic terrain that can change dynamically in response to detonations and other scenario events
Run-time publishing of Imagery/Elevation layers from CDB without requiring pre-processing
The ability to debug earth files by turning individual layers on and off to tune performance in streaming terrains
Visualization Changes
VR-Forces 4.5 uses VR-Vantage 2.2 as the basis for the VR-Forces GUI, and inherits many visual improvements and performance optimizations from that version
Support for High Dynamic Range (HDR) rendering for greater diversity of brightness in real world scenes
Users can change trailing effects (dust clouds, etc) based on the type of terrain a vehicle is driving over
Scenario Management
Scenarios are now saved in a compressed format (zip) to the repository, making it easy to share and archive scenarios
Ability to disable the global weather settings in user-created scenarios
Ability to update a scenario with changes to visual models made in the Simulation Object Editor without shutting down VR-Forces
Tasks and Sets
Scripted set data requests that get executed without interrupting the current simulation object task
New tasks for rotary-wing aircraft to pick up and drop off cargo at a destination
New aircraft tasks for Air Traffic Management users, including Generate Air Traffic From Flight Plans and Land at Airport Near Location
New aircraft refueling tasks, including Deploy Refueling Boom and Stow Refueling Boom
A complete description of all new features, as well as information on other improvements including bug fixes, can be found in VT MÄK's VR-Forces 4.5 release notes.