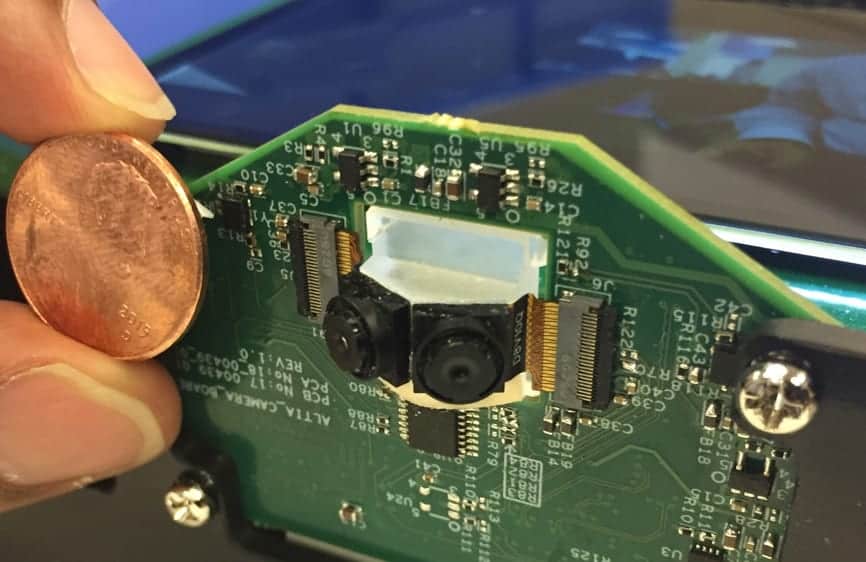 Altia Systems has announced that it recently demonstrated its new PanaCast Computer Vision Engine, which delivers real-time panoramic video stitching and runs on the Qualcomm Snapdragon 820 processor, at Embedded World 2017 in Nuremberg, Germany.
In this system, the PanaCast Computer Vision Engine (PCVE) software – which integrates the company's real-time video stitching IP – runs on the Snapdragon 820 processor and drives the newly-developed PanaCast micro camera module to deliver a 5.5 Megapixel video stream with a ~130° field of view, with 3568 x 1536 pixels per frame, operating at 30 frames per second. The micro camera module consists of two standard 3 Megapixel smartphone cameras operated synchronously, with standard fields of view for each camera.
Conventional smartphone cameras capture 60º – 80º field of view while the typical field of view of human vision is 160º – 180º. The PanaCast micro camera module produces a 5.5 Megapixel video stream with a ~130º field of view without the distortion and other limitations typically associated with ultra-wide-angle or fisheye lens based systems.
Ram Natarajan, CTO of Altia Systems, commented: "The key is to produce panoramic video with as little distortion as possible, and at a high enough resolution to be usable in high-volume and emerging applications. The extended field of view provides a real-time visually immersive experience. We achieved this by stitching together video from multiple smartphone-scale camera modules that have overlapping fields of view. The technology can also integrate real-time sensing for object detection and recognition, when used in conjunction with a database. The technology – with real-time immersive video capability coupled with real-time sensing and designed to support cellular connectivity – is built on a smartphone platform and can be used to develop intelligent vision systems for a variety of applications, including IoT, AR/VR, analytics, machine learning, automotive, UAVs, sports/events broadcasting, safety & security, telemedicine, education and entertainment."
The PCVE is a scalable software architecture that can generate high quality immersive (including 360º) video in real time using multiple cameras and video stitching. PCVE can scale up/down to higher/lower resolutions, depending on the smartphone processor capabilities and application requirements.
The dual ISP pipeline in the Snapdragon 820 processor, combined with the processing power of the Qualcomm Adreno 530 GPU, is designed to support real-time stitching with low power consumption, in a miniaturized form factor scalable for high-volume applications.
The demonstration system utilized eInfochips' Eragon 820 System-on-Module (SoM). "eInfochips' Eragon product team implemented Altia Systems' image synchronization IP and performed image sensor tuning to deliver high-quality video capture in real-time from the micro camera module on the Eragon 820 development board. Eragon 820 System-on-Module provides enhanced graphical resolutions with high-end processing capabilities and low power consumption," said Parag Mehta, Chief Business Development Officer at eInfochips.
Find suppliers of Cameras, Imaging & Vision Systems >