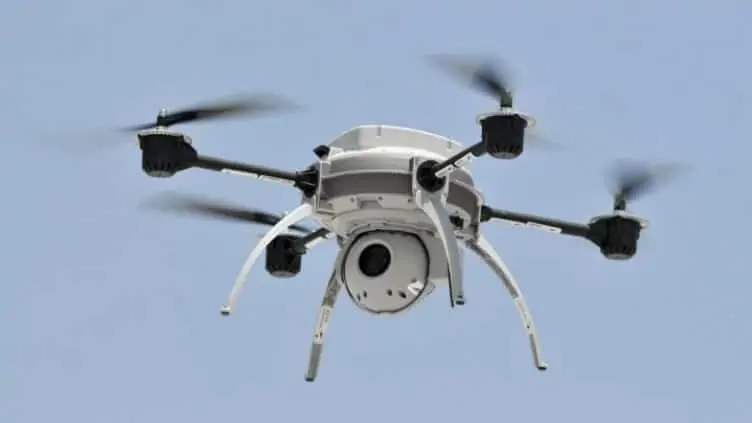 Aeryon Labs has announced that the Aeryon SkyRanger small unmanned aircraft system (sUAS) has successfully completed the first Beyond Visual Line of Sight (BVLOS) flight in Canada. The SkyRanger was chosen by Ventus Geospatial Inc. and Canadian Unmanned Inc. as the VTOL sUAS flown for BVLOS testing and evaluation throughout the trials at the Foremost UAS Range.
Transport Canada defines visual line of sight as "unaided visual contact with the aircraft sufficient to be able to maintain operational control of the aircraft, know its location, and be able to scan the airspace in which it is operating to decisively see and avoid other air traffic or objects." BVLOS describes UAS flight operations conducted at standoff distances beyond the visual contact described above.
These flight trials, among few BVLOS trials worldwide, are a milestone for aviation, establishing safe operational procedures and protocols for operating UAS under 25 kg (55 lb) beyond line of sight. This inaugural flight creates the foundation for how sUAS operators can legally and safely fly BVLOS within Canada and across the globe. Civil and commercial applications, including public safety, power line and pipeline inspection, and large area mapping, will be more feasible and more cost-effective since a larger area can be covered in a single flight without the pilot adjusting location to keep the sUAS within sight.
"Transport Canada continues to be a progressive airspace regulator, establishing standards and guidelines, like BVLOS, that enable safe UAS operations within Canada," commented Dave Kroetsch, President & CEO, Aeryon Labs. "Aeryon is proud to support Transport Canada and our aviation partners using the SkyRanger, which is the first VTOL sUAS to conform to the requirements established by Transport Canada for UAV system airworthiness and design."
The SkyRanger has provided safe and reliable operations in military, public safety and commercial applications including, the wildfires in Ft. McMurray, Alberta in 2016, where Transport Canada granted approval for Ventus Geospatial to operate in restricted airspace to assist in the fire response efforts.