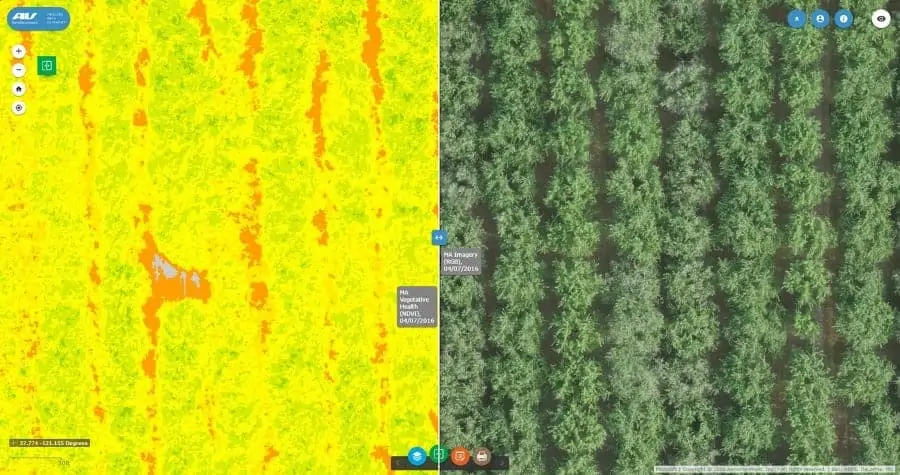 AeroVironment has announced that it has begun a year-long study with California State University, Fresno to research how unmanned aerial vehicle (UAV) imagery and analytics could potentially detect varying levels of water stress in almond trees and give producers smarter insights to make more effective in-season decisions regarding water management.
"Improved crop management is a major goal for all growers, including almond producers," said Jon Self, vice president, AeroVironment Commercial Information Solutions. "Working closely with the plant science experts at Fresno State's globally recognized Jordan College of Agricultural Sciences and Technology, we look forward to developing a reliable and effective means of correlating multispectral data with almond tree hydration data to provide growers with better insight so they can proceed with certainty."
Almonds represent the state's second largest agricultural commodity, valued at $5.33 billion in 2015 according to the California Department of Food and Agriculture. The Almond Board of California (ABC) reports that almonds account for approximately 14 percent of California's total irrigated farmland. To assure long-term sustainability, almond producers are increasingly turning to advanced technologies to push the envelope of water use efficiency while serving as good stewards of this limited resource.
AeroVironment will deploy its Puma UAV configured with a 24 megapixels photogrammetric camera and 6-channel multispectral sensor to capture data and aerial imagery of the Fresno State University Agricultural Laboratory (UAL) orchards. AeroVironment's DSS, a cloud-based analytics platform, will then process and analyze the data for correlation with ground measurements. The team will test several linear and non-linear geospatial data algorithms for statistical correlation and predictability validated by ground-level hydration data. Fresno State researchers and UAL campus farm staff will closely monitor the hydration levels of almond trees as well as environmental and crop conditions using a variety of soil and plant sensors.
Together, the team aims to gain a greater understanding of what types of imagery and data output will allow almond producers to make better decisions regarding the fine balance between water management and the needs of the crop to obtain optimal yield.
Results of the year-long study are expected to be available in September 2017.