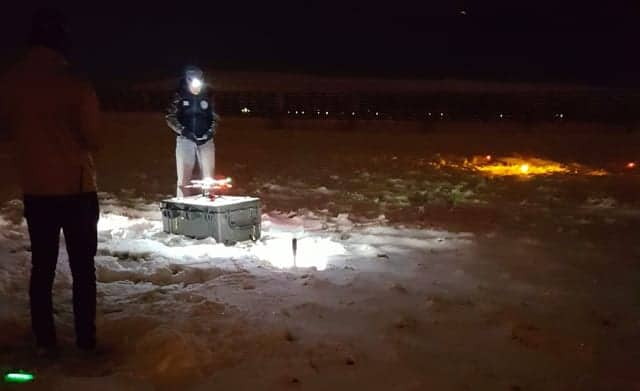 The Nevada Institute for Autonomous Systems (NIAS), manager of the FAA-designated Nevada UAS Test Site, has announced that it teamed together with the FAA and Northern Plains UAS Test Site to test counter-UAS (Unmanned Aerial Systems) technology at the Denver International Airport (DIA).
Unmanned Aerial Systems (UAS) that enter the protected airspace around airports can pose a serious threat to manned aviation safety. The FAA and its partners are working to evaluate new technologies for detecting unmanned aircraft near airports, and this DIA FAA test represents a major milestone for developing minimum operational performance standards for drone detection at major airport and critical infrastructure locations.
"With the FAA UAS Test Site designation, Nevada was given an incredible opportunity to lead in the research and development of a commercial drone industry," said Tom Wilczek, Aerospace and Defense Industry Specialist for the Governor's Office of Economic Development. "This latest test proves that safety and privacy remain paramount concerns in developing a thriving unmanned aerial systems industry, and Nevada is grateful and excited to be a lead participant in these groundbreaking efforts."
"We flew over a half dozen fixed-wing and multi-rotor drones during the ground detection system testing in Denver," said Chris Walach, Director of the Nevada UAS Test Site. "As the FAA-designated Air Mission Lead for both UAS Test Sites, our mission was to fly the scenarios per the FAA test cards under every imaginable flight profile that an airport would see [drones] intruding in their airspace. During the main FAA Pathfinder demonstration on 16 November 2016, the flight crews experienced high winds with gust over 20-25 knots and winds at the maximum for the smaller drones; however, despite the high winds, all Nevada flight teams executed their test cards with precision and a high-degree of safety."
Walach continued, "This was a first: two UAS Test Sites jointly executing a very high profile FAA Pathfinder mission in Class B Airspace. The Nevada Team did exactly what a World Series UAS Team could have done in any high-profile scenario – achieving the first to fly in the Class B National Airspace which occurred day and night through multi-aircraft operations under severe cold-weather and snow conditions. Simply put, these tests mark a big step forward in developing a Counter Unmanned Systems industry."
The Nevada Team included Nevada-based Eye in the Sky UAS, Colorado-based UASUSA, North Dakota-based ISight RPV Services, and the Nevada UAS Test Site flight team.
Eye In The Sky Unmanned Aerial Systems flew the first series of Rotary-wing UAS in Class B airspace, as part of the FAA's Pathfinder Program for UAS Detection at Airports and Critical Infrastructure. Hand-selected by the Nevada UAS Test Site, Eye In The Sky flight team flew the various test cards using the InstantEye Gen3 and DJI Advanced platforms at Denver International Airport (DIA).
"This is a major milestone for the Unmanned Aerial Systems Industry and for safely integrating UAS into the National Airspace System," said Rinaldo F. Brown, Director of UAS Operations for Eye In The Sky Unmanned Aerial Systems.
"This project was an exciting chance for us to help advance the UAS industry, while also expanding our own technical capabilities. That combination made it a valuable and rewarding project for our team," said Adam Overvold, Chief Pilot, ISight RPV Services.
"UASUSA was proud to demonstrate the Tempest's performance, and to be the first fixed-wing commercial drone launch in Class B Airspace held at Denver International Airport. The purpose was to support and study drone flight safety, a significant stepping stone to move the UAS industry forward," said Skip Miller, founder and CEO of UASUSA.
Nevada's Silver Springs Airport participated as the primary training location for all flight crews. "It was an honor and privilege to participate with NIAS in this historic event with our clients," said Kay Bennett, Silver Springs Airport Owner and Manager.