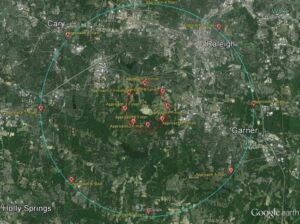 PrecisionHawk, an unmanned aerial data acquisition company, has announced Phase I Pathfinder results as part of the White House Office of Science and Technology Policy (OSTP) Workshop on Drones and the Future of Aviation held in Washington D.C. The report, included in the White House OSTP Fact Sheet, defines the boundaries and conditions of Extended Visual Line of Sight (EVLOS) operations for a solo pilot in command. The report quantifies the EVLOS distance at 2-3 nautical miles for non-technology assisted drone operations.
"Innovative commercial and government platforms and applications for UAS are helping to solve problems, save money, conserve critical resources, and even save lives," said U.S. Chief Technology Officer Megan Smith. "The Administration will continue collaborating with public and private sector entities to further understand and explore safe and beneficial application of this emergent technology."
"It is a tremendous honor to attend this event in support of the growing commercial drone industry and highlight the research being done under the FAA Pathfinder Program," said Thomas Haun, PrecisionHawk Executive Vice President. "We look forward to continuing our work with the FAA in examining the safest ways to integrate drones as efficient business tools across industries."
The Pathfinder program is an FAA-led initiative to facilitate the early introduction of low-altitude operations for small, unmanned aircraft systems (UAS) into the National Airspace System. PrecisionHawk was chosen as a Pathfinder in May 2015 and the Phase 1 report outlines the results from a series of EVLOS tests conducted in December 2015. Examples of EVLOS dependent uses include monitoring of emergency situations, wildlife monitoring and field safety, and expanded agricultural surveying for improved field data and resource management.
In addition to Pathfinder results, the White House OSTP Fact Sheet also includes PrecisionHawk's new software tool, DataMapper InFlight, which allows remote operators to capture images only within a selected area, something that will help prevent the accidental collection of sensitive data.