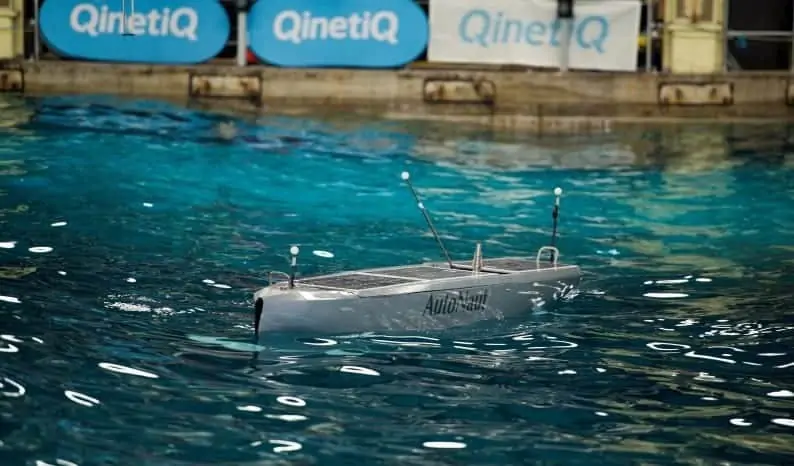 MOST (Autonomous Vessels) Ltd. has announced that the company's new 5m AutoNaut vessel has been tested successfully in QinetiQ's Ocean Basin at the Haslar Marine Technology Park. The new design was put through its paces in a range of wave conditions to evaluate the performance of the patented AutoNaut Wave Foil Technology at the 5m size.
The trial was organised by QinetiQ's Maritime Autonomy Centre (QMAC), headed up by campaign lead, Bill Biggs who said: 'We were really excited to be putting the new 5m through its paces and helping MOST (AV) to more fully characterise the performance of their technology. We are looking forward to supporting the Plymouth trials, and to working with MOST (AV) and other members of the maritime autonomy community at the Unmanned Warrior demonstrations in Scotland this October.'
Dan Alldis, MOST (Autonomous Vessels) Design Manager said: "This is not the first time we have had an AutoNaut in the wave tank, as we completed a significant testing round with our original prototype 3m vessels. This round of testing allowed us to validate our speed and motion scaling calculations from previous testing, and provided us with a chance to test new wave foil configurations.
"We tested in wave heights up to 0.6m and saw speeds upwards of 3.5 knots which is extremely encouraging. We aim to collect further performance data in 'real' waves off Plymouth this summer as we go into the second phase of our surveillance capability trials."
The trials used the state of-the-art Qualysis Motion Capture System to collect high resolution speed and 6-axis motion data, which provided a comprehensive data set to feed into the ongoing AutoNaut R&D program.
Dan Alldis said: "This was a great opportunity to test a full size AutoNaut in controlled conditions, providing an extremely valuable dataset assisting with our ongoing 5m vessel development. Initial analysis of the results is encouraging and align with our calculations and we look forward to proving our findings in an oceanic environment later this month."
Find suppliers of Unmanned Surface Vessels >