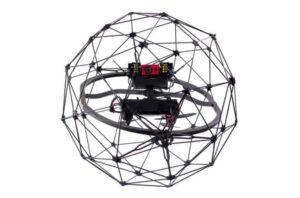 Flyability, a developer of industrial unmanned aerial vehicles (UAVs), has announced the release of Elios, the company's collision-tolerant drone. Based on a patented protective cage and flight control algorithms, and inspired by the flight of insects, Elios provides an answer to the two major challenges of flying robotics: managing obstacles and collisions, and increasing safety of operation.
Allowing for the first time drone access to complex, cluttered or indoor places, Elios is unleashing the potential of UAVs in a number of applications where their use was previously too dangerous or simply impossible.
"UAVs have the potential to change the way we work, play and communicate," said Dr. Adrien Briod, CTO of Flyability, "but current solutions can't safely operate close to structures and people, where we need them the most. With Elios, we are bringing these possibilities to reality."
After 5 years of R&D, Flyability has been operating its product for one year in the field, together with customers focusing on industrial inspection in Energy, Oil & Gas, Maritime and Heavy Industries. With an on-board HD camera, a thermal camera, and a powerful embedded lighting system, the platform also features a highly robust digital video transmission to ensure a live video feed even when Elios is navigating beyond line of sight and in metallic environments. Typical applications include the inspection of boilers, tanks, vessels, stacks, and any other confined and complex space, even in complete darkness.
Human access in confined spaces for inspection is dangerous, and hundreds of fatalities are reported yearly worldwide. Sending robots instead of humans in dangerous situations is a common goal for end-users and technology developers.
However, current robotic solutions were often unable to access these rough and complex spaces. By allowing a UAV to bump against obstacles during its flight, Elios is the first solution for many of these environments.
Traditional access methods require scaffolding, sky climbers, bucket trucks or rope access. While these expensive and time-consuming methods are still needed for maintenance work, the inspection work can now be done at a fraction of the cost and time. This allows for reducing the downtime of infrastructures and Elios thus often allows users to break even in as little as a single day of operation.
As piloting mistakes are allowed with Elios, it is an ideal tool also for inspection professionals who are not trained pilots. Only a few days of practice are needed before performing the first jobs. With its protective cage, it is safe to fly close to humans, and can thus be used while the factories are still in operation.