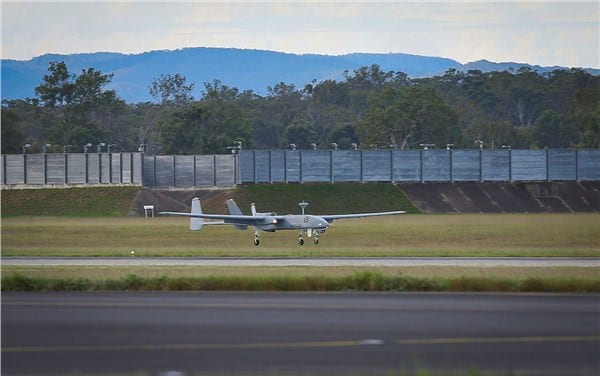 The Royal Australian Air Force has announced that it has operated the Heron remotely-piloted unmanned aircraft system out of RAAF Base Amberley for the very first time. The Heron has been flying in military airspace alongside C-17A Globemaster III, F/A-18F Super Hornets and KC-30A Multi-Role Tanker Transport aircraft. The Heron is flown with fully qualified military pilots who have extensive experience on both manned and remotely piloted aircraft.
Wing Commander Matthew Bowers, Commanding Officer Number 5 Flight said the two week flying schedule has involved a series of scenarios that has tested the crew.
"Over the past few months our crews have been preparing for this demanding activity which is the first time we have operated from a major Australian RAAF base alongside other Air Force platforms," said WGCDR Bowers.
"The Heron plays a pivotal role in Battlespace Awareness and the Royal Australian Air Force's ability to deliver air power effects in the support of our national security interests."
This is the first time the aircraft has flown in military airspace in Australia outside of the Woomera Test Range and Shoalwater Bay Training Area. Air Force currently operates two Heron aircraft.
"This is yet another step in the evolution in Australia of remotely piloted aircraft operations," said Commander Surveillance and Response Group Air Commodore Craig Heap.
"Since we brought the Heron back from Afghanistan, we have gone from training in remote areas such as Woomera, to civilian airspace out of Rockhampton and now to a major Air Force base where we will operate on a more regular basis."
"We will continue to work towards expanding Heron operations even further," he added.
The Heron aircraft completed more than 27,000 mission hours during Operation SLIPPER. It provided intelligence, surveillance and reconnaissance support to Australian forces and International Security Assistance Force (ISAF) partners in southern Afghanistan. The Heron flew its final mission from Kandahar Air Field on 30 November 2014.
The focus for the ADF is to continue to see Heron integrated into airspace rather than accommodated where other military and commercial aircraft are not making allowances.