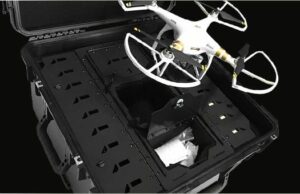 CaseCruzer, a developer of durable carrying cases, has announced the release of the SmartCruzer Drone Charging Station, targeted at the the film, news media and racing sport industries. The case allows users to safely store, transport, and charge unmanned aerial vehicles (UAVs) such as the DJI Phantom.
CaseCruzer designed the durable and reusable SmartCruzer transport solution to simultaneously charge three UAV batteries and the remote control. The shock-proof case also provides ample space for propellers and cushioned saddles to secure man-portable drones during travel. The case also stores and charges tablets, and includes custom-built compartments for batteries and remote controls with iPad/tablet mounts.
Find suppliers of Flight Cases for UAVs >
The Drone Charging Station can power drones from two power sources: 110-Volt household electrical outlets or DC 12-Volt car power plug-ins. Safety benefits include automatic shutdown of the charging process to prevent short circuits, excessive heat or battery drainage in the vehicle being used by media, film or racing teams.
Exterior dimensions and weight of the case vary, depending on the size of drone fleets. Most cases are equipped with a pull-out handle and embedded wheels.
The SmartCruzer Drone Charging Station is fitted with an automatic pressure purge system with a neoprene O-ring seal. Airtight and watertight means extreme weather conditions cannot harm drone components and accessories. Theft-proof molded-in padlock holes and sturdy latches provide security.
"Hand launch drones are safer, cheaper, convenient, and a more aesthetic solution for filming in remote locations. So we looked for a way to make sure drones would always be frequent fliers—in any kind of weather or terrain. Wherever they travel, CaseCruzer travels too," says Tatiana Briceno, CaseCruzer marketing director.