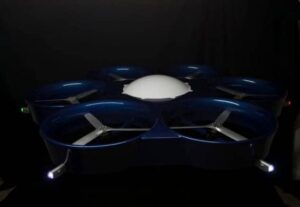 Olaeris, a developer of unmanned aerial vehicles (UAVs), has unveiled AEVA, a new unmanned aircraft with a 4-5 hour flight time, at the HAI Heli-Expo in Louisville, Kentucky.
Targeting the civilian helicopter market, Olaeris' unmanned VTOL (Vertical Take-Off and Landing) aircraft is designed to fly beyond line of sight in commercial air space, putting the pilot on the ground, and a robust, autonomous aircraft with collision avoidance in the air.
"The user applications for AEVA are endless," said Vice President of Sales & Business Development, Scott Lucas. With the pilot safely on the ground as a redundant safety backup, the aircraft uses onboard radar, Lidar, ADS-B and machine vision to "feel" its way through the airspace, avoiding flight path obstacles automatically. This leaves the pilot free to operate onboard cameras and sensors without the burden of flying the aircraft.
This latest version of AEVA is the result of a 6-month design review with a multi-billion dollar aviation company that collaborated on the original design during the first half of 2015. They inserted engineering modifications to help ensure the FAA would find the aircraft safe and worthy of type-class certification like a conventional helicopter.
"Industries have been exploring the use of UAVs for hundreds of applications but have generally learned the hard way that they are based on flimsy hobby components and lack the durability to add value in everyday industrial applications. AEVA may look like a drone or UAV, but don't be mistaken. We hope to prove she is as safe as any civilian helicopter flying today", said CEO Ted Lindsley.
Emphasizing safety, titanium stress points, a Kevlar reinforced carbon fiber airframe, safety wired fasteners and multi-redundant backups are just some of the innovations resulting from 13 patents already filed. Lindsley said, "There are no hobby grade components in AEVA. Her critical flight systems have been engineered with multiple redundancies for safety and she uses the same quality of manufacturing partners that the general aviation industry relies upon."
AEVA also uses shrouded, ducted fans rather than open rotors, allowing flight in close proximity to obstacles and package delivery without accidental rotor strike. Lindsley said, "Unless you are carrying large payloads or transporting people, AEVA represents the future. AEVA meets the needs of about half the customers that conventional helicopters currently serve."
AEVA is being offered in 2 models. The all-electric version is capable of flying for 1 full hour while carrying up to 5Kg/11 pounds of payload. The hybrid-electric version is capable of carrying the same 5Kg/11 pounds of payload for 4-5 hours.