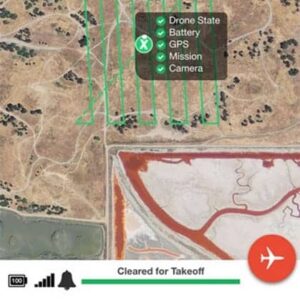 DroneDeploy, a developer of cloud software for commercial drones, has announced the launch of its free iOS flight app to simplify and automate the capture of aerial data for the iOS community. Users of DJI drones can autonomously fly and capture images, and make professional maps for analysis, 3D modeling and more.
Drones are already transforming business processes across industries, such as agriculture, mining, construction, real estate and research — and demand continues to grow. Cloud-based software from DroneDeploy puts aerial imagery and insights into the hands of people using the latest generation of drones in a way that is faster and safer, and more user-friendly and cost-effective than ever before.
"We're thrilled to offer flyers globally the ability to automatically fly and produce professional-grade maps for free on their Apple iOS devices," said Mike Winn, CEO and co-founder, DroneDeploy. "Now with just two taps on an iPhone or iPad, users can launch their mission and collect the data they need to extract insights for their business."
DroneDeploy users, from hobbyists to leading global enterprises, have produced and analyzed over 1 million acres of maps in more than 30 countries and across 6 continents. Farmers have identified irrigation, pest issues and reduced fertilizer applications. Construction sites and mining operations have reduced costs and increased worker safety. Research projects, such as the Phones & Drones initiative which tracks the effects of El Nino on the West Coast to better predict sea level rise, have enabled The Nature Conservancy for the first time to crowdsource drone citizen scientists with DroneDeploy's web-based collaboration tools.
The DroneDeploy iOS flight app, which includes live stream First Person View (FPV) supports DJI's best drones, including the Phantom 3 Pro, Phantom 3 Advanced, Inspire 1 and Inspire 1 Pro. DroneDeploy's iOS flight app is the only independent mapping app to currently support the powerful Zenmuse X5 camera, built specifically for aerial photography and cinematography.