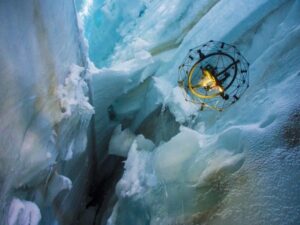 Flyability, a developer of collision-resistant drones and the winner of the 2015 UAE Drones for Good Award, has announced that it partnered with the mountain rescue team of the Zermatt Glacier in the Swiss Alps to explore crevasses situated at an altitude of 3500 meters above sea level.
These narrow ice caves are inaccessible to many current robotic technologies, and present a huge risk to human rescuers. Flyability's latest drone was able to fly down into the crevasse and back up to return to the surface, and captured footage of the area, which is rarely seen by humans.
The drone used by Flyability is encased within a spherical, freely rotating protective cage, meaning that it remains perfectly stable after contact. This means that it is completely collision-tolerant and safe to fly close to humans. It was thus capable to easily access this extreme environment while being remotely operated by an untrained pilot. The embedded full HD camera, digital live video transmission and the powerful lighting system allowed the drone to operate in the heart of the mountain glacier, tens of meters below the surface.
This successful experience has shed light upon the promising results of using this drone for mountain Search & Rescue missions, in addition to the current focus of the company in Industrial Inspection of inaccessible and confined environments. The technology has been warmly welcomed by Zermatt rescue professionals as they are constantly developing and refining rescue techniques for use in crevasse fall emergencies, to locate injured parties before dispatching a rescue team in dangerous situations.