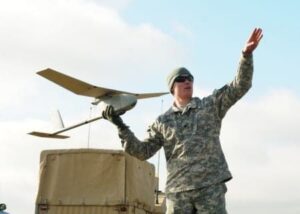 The US Army's 3rd Cavalry Regiment has announced that its members have trained in the use of the RQ-11B Raven unmanned aerial vehicle (UAV), manufactured by AeroVironment, on ranges at their home base at Fort Hood, Texas. The "Brave Rifles" soldiers used the training to finalize certification, or log necessary flight time to stay qualified to operate the equipment.
The Raven is a small hand-launched aircraft that can be assembled, deployed and operated by a pair of troopers. The aircraft is designed to carry a camera that feeds live images back to its home station or a tactical operations center in real time. It has a wingspan of four-and-a-half feet, weighs roughly four pounds, operates above 100 feet, and has a range of more than five miles.
Every squadron in the regiment has Ravens to aid company commanders in completing missions.
Spc. Daniel Peele, field artillery firefinder radar operator, Steel Squadron, Headquarters and Headquarters Battery, from Pilot Mountain, North Carolina, said he enjoyed his first chance flying it.
"It's pretty fun," said Peele. "It's something different from my every day job. It's somewhat similar to a model plane, because you fly it with a remote, but we have a lot more features. The Raven has the ability to fly a pre-planned path – a waypoint – and return home at the push of a button autonomously."
The small size, portability and lower cost allow subordinate commands to utilize this equipment at their discretion. In a mission, the Raven can be launched quickly to give the battlefield commander a better view of the units' surroundings.
Sending the small aircraft forward of a formation to spot enemy locations, without risking troopers' lives, is one use for the vehicle.
"A company commander has freedom of movement with the Raven," said Sgt. 1st Class William Jordan, the regimental master Raven trainer. "They don't have to go through the regiment or battalion to utilize it. The bird can be used for reconnaissance, target acquisition, battle damage assessment, and convoy security."
The RQ-11 is a combat multiplier with capabilities of giving a grid location of hostile forces, or guiding ground units to a desired location.
"I would recommend more company commanders embrace the Raven; it gives them real time situational awareness," added Jordan.