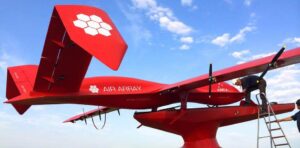 ARCA Space Corporation, a manufacturer of space exploration aircraft, has announced that it has begun production and flight testing of the company's AirStrato unmanned aircraft system (UAS) at ARCA's new facilities at Las Cruces Airport, New Mexico.
"I am thrilled that ARCA Space will make Las Cruces home for the production of its innovative, electric-powered aircraft and further diversify New Mexico's economy," said Susana Martinez, Governor of New Mexico. "Not only does New Mexico now have a competitive business environment but a strong aerospace infrastructure, with New Mexico State University Physical Science Laboratory and Spaceport America positioning New Mexico to be an industry leader"
"Manufacturing and testing of the AirStrato high-performance, electric powered, unmanned aerial system is the foundation on which we build our enterprise here in Las Cruces. But it is far from being the end of our goals for ARCA in New Mexico. Two space vehicles, currently in development at ARCA, will be brought here in the near future for testing, manufacturing and operations from Spaceport America. I'm talking about Haas 2B suborbital rocket intended for space tourism and Haas 2C orbital rocket intended for commercial orbital payload deliveries", said Dumitru Popescu, CEO of ARCA.
The applications of the AirStrato aircraft are numerous, and include stratospheric experiments, data transmission, border surveillance, search and rescue and disaster relief. AirStrato is a large electric powered unmanned aerial vehicle, intended to bridge the gap between high-performance high-priced military UAVs and low-performance low-cost commercially available aerial drones. There are two versions available, the stratospheric long-endurance AirStrato Explorer, and the low altitude AirStrato Pioneer. Both variants can be powered by solar panels or hybrid propulsion. The company is currently working with the NMSU Flight Test Center to secure FAA certification.
"The Economic Development Department, local officials, Mesilla Valley Economic Development and New Mexico State University all played an important role in bringing this amazing project to Las Cruces," said Economic Development Secretary Jon Barela. "As New Mexico continues to gain momentum in its job creation efforts, we look forward to more cross-collaboration to attract businesses to our state."