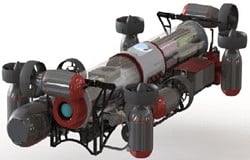 ADLINK Technology, a provider of cloud-based services and embedded systems, has announced its sponsorship of the Cornell University Autonomous Underwater Vehicle (CUAUV) team's entry into the 18th Annual International RoboSub competition, held at the Space and Naval Warfare Command Research facility in San Diego, CA.
"We compete against teams from across the world, and have won first place five times in the past six years. A significant contribution to our success has been the ADLINK-sponsored computer, which we used on our main vehicle for last year's competition and are using again in this year's design," said Jonathan Chan, CUAUV simulation project leader.
CUAUV's vehicle, Argo, is powered by ADLINK's Express-HL COM Express computer-on-module, featuring a 4th generation quad-core Intel Core i7 processor with Mobile Intel QM87 Express chipset. The Express-HL acts as the lone on-board computer and handles complex and essential tasks, including integrating data from sensors such as sonar, a Doppler Velocity Log, hydrophones, and on-board cameras. In addition, the Express-HL module and carrier board run the computer vision code and mission logic that make it possible for Argo to be autonomous.
"Based on the performance of our existing computer, we are in the process of configuring a new module, also sponsored by ADLINK, to serve as the backbone of the to-be-completed autonomous cooperative mini-sub, and additionally to serve as a replacement for the main computer, if necessary," says Zander Bolgar, CUAUV mission framework architect.
The CUAUV team, made up of 41 students from two of Cornell's colleges and from six different majors, has placed top ten in the RoboSub competition every year. Development of the autonomous underwater vehicle is a year-long process, with the team spending more than 20,000 person-hours designing its vehicle.
"ADLINK is pleased that the Cornell team had a good experience with our module last year and has chosen to depend on it again to help them get another win," said Elizabeth Campbell, general manager of ADLINK Americas. "This is a dedicated group of individuals with whom we are proud to be associated."
ADLINK's Express-HL is a COM Express COM.0 R2.1 Basic Size Type 6 module supporting the 64-bit 4th Generation Intel Core i7/i5/i3 or Celeron processor with CPU, memory controller, and graphics processor on the same chip, and is specifically designed for customers who need high-level processing and graphics performance in a long product-life solution. The Express-HL supports Intel Hyper-Threading Technology (up to 4 cores, 8 threads) and DDR3 dual-channel memory at 1333/1600 MHz to provide excellent overall performance. Intel Flexible Display Interface and Direct Media Interface (DMI) provide high-speed connectivity to the Intel QM77or HM86 Express chipset.
The international RoboSub competition is co-sponsored by the Association for Unmanned Vehicle Systems International (AUVSI) Foundation and the U.S. Office of Naval Research (ONR) with the goal of advancing the development of AUVs. The event serves to foster ties between young engineers and organizations developing AUV technologies. The competition mission elements and tasks are designed to simulate real-world challenges, such as visual recognition of objects, navigation, and acoustic sensing.