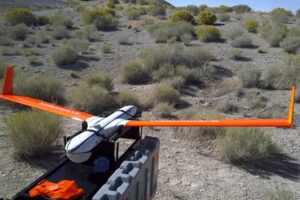 SmartC2 Inc., a developer of aviation software solutions, has announced that its VirtualAirBoss™ aviation management software, integrated with NASA's UAS Traffic Management (UTM) system, will be utilized in an experiment with the Center for Asymmetric Warfare (CAW) to coordinate flights of unmanned aircraft systems during threats and emergencies at the Coastal Trident 2015 field exercise in the Port of Hueneme, California.
Alan Jaeger, director of the Center for Asymmetric Warfare, is participating with VirtualAirBoss and NASA's Parimal Kopardekar, Manager of the Safe Autonomous System Operations Project, to demonstrate connectivity of the VirtualAirBoss to NASA's UTM system during this field exercise involving state, local and federal agencies responding to simulated regional threats and emergencies.
"Coastal Trident is the perfect environment to evaluate this convergence of extensive expertise in emergency and threat response, with the cutting edge technology of VirtualAirBoss and NASA's new UTM. Unmanned aircraft (UAVs) will play an increasing role in damage evaluation and crisis response, and coordinating drones in the airspace will be vital," says Stuart Rudolph, President of SmartC2, who is participating from the private sector. "The feedback provided by the Coastal Trident users who are coordinating flights during this scenario will improve our technology moving forward."
More than 90 local, state, and federal emergency response agencies will collaborate with the Port of Hueneme to conduct the annual Coastal Trident Regional Maritime Security and Response Exercise, and along the Southern California Coast near and around the Port of Hueneme in the first two weeks of June 2015. The full scale exercises involve a variety of air, land, and sea operations as well as testing a number of technologies related to maritime operations. The exercise activities are designed to test threat and emergency response plans, processes, and systems, along with command and control procedures.
The Maritime Advanced Systems & Technology Laboratory (MAST) is a collaborative research facility. MAST is dedicated to fostering leading edge technology innovation in the port and maritime environment in partnership with the Port of Hueneme.