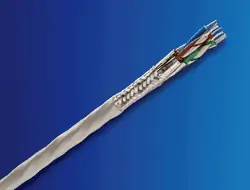 W. L. Gore & Associates, a technological innovations company, has announced the introduction of GORE® Ethernet Cables to meet the civil aerospace industry's emerging need for higher data rate cables in a lightweight, flexible, and routable package. Engineered for the demands of modern airborne digital networks, GORE® Ethernet Cables provide high-speed data transmission up to 10 gigabits over longer distances. They provide excellent signal integrity with stable performance in demanding environments, including a wide range of temperatures. These cables are available in two standard sizes – 24 AWG and 26 AWG.
GORE® Ethernet Cables feature a unique cable jacket material and high-density construction that significantly reduces weight and diameter for improved installation. This connector insert is a direct replacement for current quadrax technology that allows for up to 20 times the data in the same space. "Being able to directly replace a size 8 quadrax connector within an ARINC 600 or 38999 shell with the Gore 10GbE product combined with a Glenair, Inc. El Ochito™ connector allows for a dramatic increase in data capability within the same form factor," says Jeremy Moore, Application Engineer at Gore. The unique cable jacket material provides the ideal combination of high speed and lighter weight necessary for a wide range of aerospace applications, including unmanned aircraft systems.
GORE® Ethernet Cables carry on the heritage and proven success of GORE® Aerospace Cables and Materials such as GORE® 1394b FireWire® Cables, which have long been the premier solution for 1394b FireWire® data links on military aircraft. Gore has leveraged this technology to deliver faster and more robust solutions to the civil industry and in-flight entertainment (IFE) market. Adrian Milne, Global Product Manager says, "Providing a capability within the IFE market place to replace multiple quad cables with a single 10GbE Gore cable allows our customers to save both weight and cost while increasing their ability to satisfy the industry demand for ever-increasing data usage."
Typical applications for GORE® Ethernet Cables include avionics networks, digital video systems, content loading, cabin management systems, flight management systems, Ethernet backbone, and IFE systems. "Airlines and associated users facing the challenge of updating IFE server content can benefit from systems utilizing faster data-loading capability. The Gore 10GbE cable can be an integral part of this solution," says Manfred Gross, Gore Application Engineer.
Higher data rate systems require greater attention to all electrical parameters, such as impedance control, attenuation, crosstalk, and EMI. Design engineers are integrating sophisticated electronics into almost every system of modern civil aircraft. It is essential for electronic systems to communicate reliably and accurately, and cables are the lifeline of these systems.