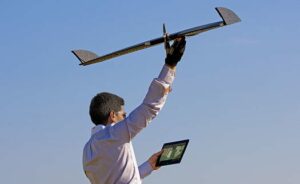 Lehmann Aviation, a developer of drones for civil applications, has announced the launch of the LA300AG, the company's new unmanned aerial system (UAS) for precision agriculture. The LA300AG system is comprised of Lehmann's LA300 drone outfitted with MicaSense's RedEdge multispectral camera.
The LA300AG UAS is compatible with the latest version of Lehmann's powerful and user-friendly OperationCenter software for flight preparation and mission control, natively designed for Windows 8.1 Tablets and PCs.
To obtain multispectral images of crops and other geographical elements from the air, the user needs only to set waypoints on the touchscreen map of the area, and OperationCenter will automatically calculate all mission parameters. After the trajectory has been sent to the LA300AG via Wi-Fi, the drone is launched by hand, and automatically accomplishes the flight before landing fully autonomously at the chosen site with geotagged multispectral images stored on an SD card.
The LA300AG is capable of flying for up to 45 minutes at a range of up to 25 km (15.5miles). It has been designed to be flown in harsh environments, in temperatures from -25 °C up to +60 °C (-13 °F up to 140 °F), with winds of up to 35 km/h (20kt). Together with the RedEdge camera, the LA300AG weights 950g (2lb), with a wingspan of 92cm and length of 45cm.
Find Fixed Wing UAV Manufacturers, Aviation Software providers and Cameras, Imaging & Vision Systems suppliers.