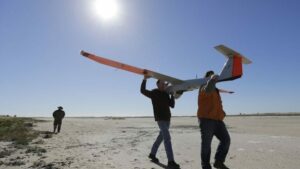 Texas A&M University-Corpus Christi's Lone Star Unmanned Aircraft Systems Center (LSUASC) has announced that it is planning test flights with SRC, Inc., a company that has a ground-based sense-and-avoid technology designed to identify small UAS above a designated area.
Researchers are scheduled to run missions with the University's RS-16 unmanned aerial vehicle (UAV). Operations will be based at the Charles R. Johnson Airport, operated by the Willacy County Navigation District.
"Texas A&M University-Corpus Christi and the Lone Star UAS Center are excited to be at the forefront of testing technologies needed to fully integrate unmanned aircraft into our national airspace," said Dr. Luis Cifuentes, Interim Executive Director of the Lone Star UAS Center and the University's Vice President for Research, Commercialization and Outreach. "The safety of our skies is paramount. The Lone Star Center will continue testing aircraft, systems, and software to assist the Federal Aviation Administration as it develops rules and procedures required to ensure safety in the national airspace."
The RS-16 is the University's largest UAV, with a wingspan of nearly 13 feet and a maximum weight of 85 pounds. It launches with a pneumatic catapult and lands on its belly.
In addition to the testing by SRC, the mission also will gather video, ultraviolet and thermal image data from an onboard multi-spectral camera.
The upcoming missions will address several of the FAA research goals designed to safely integrate UAS, sometimes also called remotely-piloted aircraft, into the national airspace, including:
air traffic control and communications as it relates to the new range, including developing protocols for dealing with runway in use by piloted craft;
best practices for use of a helicopter as an airborne chase vehicle that can more efficiently match speed and follow the UAV; and
continue refining process of ensuring air traffic control communications between UAV, ground control station and Mission Control Center in Corpus Christi.
During these missions, the UAV will be monitored by a piloted aircraft as it flies. Regulations require that the drone remain under visual contact at all times.
The University will file a report with the FAA, part of the requirements of test site operators.