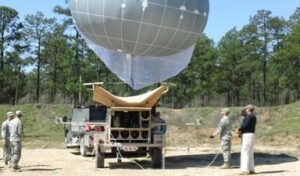 Drone Aviation Holding Corp., a developer of specialized lighter-than-air aerostats and tethered drones, has announced that its wholly owned subsidiary, Drone Aviation Corp. (DAC), has successfully completed a joint demonstration with a defense prime contractor at a U.S. Army facility. DAC successfully demonstrated how currently deployed U.S. Army ground monitors and mobile devices can access secure wireless video footage from the Blimp in a Box® (BiB) mobile ISR aerostat systems owned and operated by the US Department of Defense.
The newly integrated wireless system was installed and flown for several days on a BIB aerostat to demonstrate the effectiveness of distributing secure, live video feeds from a tactical aerostat directly to ground based mobile devices such as OSRVTs (One System Remote Video Terminals) and ROVER (Remote Operations Video Enhanced Receiver) systems currently deployed with US ground forces. OSRVTs and ROVER systems are handheld or vehicle mounted video and telemetry systems that provide soldiers with enhanced situational awareness including real-time, full-motion video data collected from manned and unmanned platforms.
"We are pleased with the results gathered from the initial round of technology integration testing. After more than 6 months of planning and integration, we accomplished our goal of enabling our aerostat platform to provide live aerial footage to various U.S. Army-operated mobile assets," said Felicia Hess, Drone Aviation Holding Corp. CEO. "With the support of our customers and partners, we will continue to jointly evaluate how we can significantly increase the capability of the BiB and WASP tactical aerostat systems by enabling the data from our sensors to be seamlessly integrated into U.S. Army networks."
DAC develops and manufactures the Blimp in a Box® and WASP aerostat product lines. The BiB and WASP aerostats utilize a secure, high strength tether line which remains connected to the ground, allowing them to operate in the National Airspace in compliance with FAA regulations. DAC systems are intended to provide semi-persistent, mobile intelligence, surveillance, and reconnaissance ("ISR") and extend communications for various applications. BiB and WASP aerostats are currently in use in a number of DoD applications and have also completed a series of U.S. Army NIEs (Network Integration Experiments) that effectively demonstrated their capability to provide mobile communications for the Army.