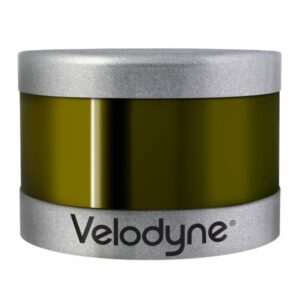 Velodyne LiDAR unveiled its new LiDAR Puck to the UAV market at the ASPRS UAS/UAV Mapping Forum 2014 in Reno, teaming up with other familiar names in the industry to demonstrate new implementations of the technology.
Velodyne showcased the Velodyne LiDAR Puck live for the first time before the UAV audience – some 530 attendees and 50 exhibitors, from UAV manufacturers, to flight controllers, payload options specialists, processing software professionals and academics. The event was organized by the American Society for Photogrammetry and Remote Sensing (ASPRS), the Imaging and Geospatial Information Society – a scientific non-profit association with a mission to advance knowledge and improve understanding of mapping sciences, to promote the responsible applications of photogrammetry, remote sensing, geographic information systems (GIS), and supporting technologies.
The Velodyne LiDAR Puck, dubbed VLP-16, is expected to dramatically expand the use of 3D LiDAR (Light Detection and Ranging) technology sensors in robotics, unmanned aerial vehicles and factory automation applications. The new 16-channel, real-time LiDAR sensor is substantially smaller than anything else on the market.
Sharing the Velodyne booth at UAS Mapping 2014 was XactMaps.com with its custom UAV, which can carry a payload of up to 50 pounds. For the event, XactMaps equipped its UAV with Velodyne's HDL-32E 3D real-time LiDAR scanner, FLIR thermal camera, and Vision Camera with 36x optical zoom. The UAV has a flight time of about 30 minutes; data is recorded on board and transmitted wirelessly to a ground-based computer, to visualize the LiDAR data using advanced SLAM algorithms that do not require costly, and heavy, GPS/IMU equipment.
In a neighboring booth, Phoenix Aerial Systems displayed Velodyne's HDL-32E lightweight LiDAR sensor on its AL2 system, which includes GPS/IMU, data management, wireless transmission in a compact "black" box with the HDL-32E sensor mounted to it. Recent data collection from Phoenix Aerial resulted in stunning 3D point clouds from Malibu, Calif. Phoenix Aerial also previewed "Scout," its newest platform, which will use Velodyne's LiDAR Puck.
With size, weight and price top-of-mind for attendees attuned to matters of UAV payloads, Wolfgang Juchmann, Velodyne's Director of Sales & Marketing, addressed all three in one pass, pulling an HDL-32E sensor out of his jacket and the LIDAR Puck out of his pants pocket during a panel discussion of sensor experts.
"UAS Mapping 2014 was a big success for us and for the industry overall," Juchmann said. "There's a great deal of interest in this market generally and in the Velodyne Puck class of product specifically. What's new isn't simply recording data with the sensor but using real-time, 3D LIDAR sensors to actually help avoid collisions – in the air, to stay clear of other UAVs, and likewise on the ground, to find a suitable landing site when faced with the unknown, in a military hot zone or an area in the wilderness."