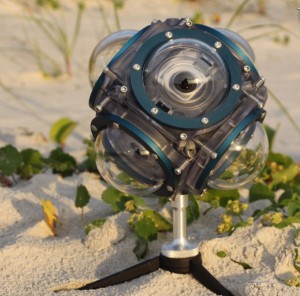 360Heros Inc., a developer of 360-degree video technology, has announced the release of its newest product, the 360Abyss, which is a virtual reality underwater video camera system that allows users to film 360-degree panoramic video at depths as low as 1,000 meters using GoPro cameras. With video resolutions of up to 7.5K (7,500 x 3,750 pixels) and the ability to select negative or positive buoyancy, the 360Abyss is the world's smallest and most versatile 360 underwater video gear. Using the Oculus Rift and other compatible VR gear, the user can view amazing virtual tours captured at depths of 1,000 meters and create content that is 3x HD quality.
"Our goal in developing the 360Abyss was to put power in the hands of divers and cinematographers. We wanted to push the limits in terms of what was possible in filming 360 video underwater", stated Michael Kintner, 360Heros CEO and 360Abyss inventor.
The 360Abyss utilizes 6 GoPro cameras configured in a patent pending array that facilitates the capture of a full 360×180 degree field of view. Each GoPro camera is enclosed in its own individual compartment to prevent leaks and is fitted with a high-resolution exterior photography dome. These domes are made from a combination of polycarbonate and acrylic materials that restore each camera's field of view underwater and produce up to 7K video resolution.
Each camera compartment is sealed with fitted doors that are either anodized or polycarbonate. The polycarbonate doors give the unit positive buoyancy while the anodized (aluminum) doors give it negative buoyancy. These fitted doors can be interchanged to suit divers needs and dictate buoyancy for the entire unit. Additionally, each dome assembly has the ability to utilize interchangeable 55 mm filters for aquariums, blue water or green water environments.
Applications for the 360Abyss include military use, research, tourism, waterway documentation and wildlife cinematography. In all of these scenarios the subject is displayed in an interactive, fully spherical 360 by 180 degree HD video (3x HD) or 360 photo (12K), capturing every angle.
Specifications:
Uses GoPro Hero3, Hero3 Plus and Hero4 Cameras

Obtain neutral buoyancy with poly carbonate door corner weight add-ons.

Individualized camera compartments ensure each camera is safe

360 Video Resolutions as high as 7,500 x 3,750 pixels with Hero4 Black 2.7 4:3 Mode

360 Video Resolutions as high as 6,000 x 3,000 pixels with Hero3, Hero3+, Hero4, 1440 4:3 Mode

360 Video Resolutions as high as 5,000 x 2,500 pixels with Hero3, Hero3+, Hero4, 960 4:3 Mode

Size with Domes: 22 cm x 22 cm x 22 cm

Polycarbonate Domes

Qty 8 – 3/8" Corner Mounts for Diver

Qty 6 – 3/8" 45 Degree Lens Mounts for Subs/UAV/Rovers

Qty 6 – Interchangeable 55mm filters inside each dome great for aquariums, blue water and green water (CY, GR, SWCY Filters)