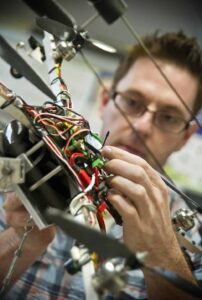 The University of Texas at Arlington has announced a new unmanned vehicle systems undergraduate certificate for students interested in careers in one of the nation's most exciting engineering fields.
The program is a collaboration between the College of Engineering and the UT Arlington Research Institute, which received Federal Aviation Administration approval early this year for unmanned aircraft system test flights at the Institute's Fort Worth campus.
Engineering Dean Khosrow Behbehani said the certificate will help meet business demand for highly-educated employees in the rapidly developing field of unmanned ground, air and water systems. The certificate will be available to degree-seeking students beginning in fall 2014.
"Our faculty members and student teams already are designing these systems, building them and programming them to perform tasks to aid humankind," Behbehani said. "Whether these systems are used for aerial photography, security, transportation, product delivery or outer space exploration, unmanned vehicle systems will be integral to the future of engineering."
One industry study by the Teal Group found that annual unmanned aerial vehicles spending would more than double during the next decade to reach about $11.6 billion. The industry, the report said, would generate more than $89 billion in spending over the next decade.
"The UT Arlington Research Institute is excited to play a role in the unmanned vehicle systems certification program," said retired Army Lt. Gen. Rick Lynch, executive director of the UT Arlington Research Institute. "UT Arlington students will have a unique opportunity to explore the real world applications of unmanned vehicle systems through UTARI's research and development, product development and testing capabilities. That experience will give students a distinct advantage in an incredibly dynamic and growing industry."
Behbehani said four Engineering departments – electrical, computer science, industrial manufacturing systems, and mechanical and aerospace – will collaborate to deliver courses required for the 15-hour certification.
The University is developing other graduate-level unmanned systems programs and is expected to launch those in the coming months.