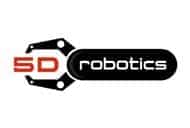 5D Robotics, Inc., a robotics software company that integrates human behaviors with leading robotics hardware, recently demonstrated its plug and play technology at the U.S. Army Maneuver Center of Excellence Robotics Limited Demonstration Oct. 7-11 at Fort Benning, Georgia, where its Lighten the Load software kit ran successfully on five of the eight robotic systems exhibited.
Formerly the "Robot Rodeo," the invitation-only event gives commercial organizations like 5D Robotics the opportunity to showcase how technology can aid the military through a variety of live assessments in the field. It also gives high-ranking members of the DoD the chance to clarify their objectives for future robotic systems in the military.
"The DoD's focus in this new age of austerity is to be lean, agile and flexible when it comes to robots", said David Rowe, 5D Robotics CEO. "By focusing on interoperability, we're addressing the joint chiefs' concerns for cost limitations and efficiency. Plug and play software means we're increasing maintainability and overall life cycle for existing systems while building out future systems."
Because unmanned systems need to be both more capable and self-sufficient, the demonstrations focused on robots that could autonomously follow soldiers, lead soldiers and detect hazards, and navigate and avoid obstacles. "Our soldiers are strong, but no one can move fast with 120 pounds on your back," said Rowe.
The event highlighted 5D's flexible technology, demonstrating the company's interoperable software across a number of robotic platforms. With tight budget constraints, the military has a difficult task of reducing costs while continuing to innovate. Company Vice President David Bruemmer stated: "5D provides a means for the DoD to buy one control system and use it on many different platforms. It's better for everyone involved including the program manager who buys the systems and the operator who uses them."
5D Robotics believes interoperable and flexible software solutions are the best way to achieve the DoD's lighter, leaner, and lower cost robotic objectives.
David Bruemmer, 5D Robotics vice president, outlines three ways companies building robots for the DOD can achieve key objectives in the 'age of austerity':
Be lean: Lighter equipment is a major focus for the Defense industry. New robotic systems must reduce those pounds for soldiers, without requiring additional mental input. 5D's Lighten the Load kit enables any robot platform to reduce the physical and mental work load of warfighters.
Be agile: The DoD can no longer afford a specific robot, manufacturer, or software for a single task. Solutions must be able to work across platforms, military branches, and tasks. The 5D Robotics software is garnering increasingly more recognition because the company's software can be used on robots from five pounds to 5,000 pounds for a variety of tasks.
Be flexible: Robotic systems must also be flexible in response to increasingly complex environments and demands. Military leaders recognize that a battle field is never sterile or perfect, so they require robots that are adaptive and responsive. For example, 5D's ultra wide band (UWB) tags enable smart navigation and adaptive motion without relying on GPS.
The 5D Lighten the Load kit was integrated onto the following five robotic platforms: the Segway SATSOR lighten the load robot, Northrop Grumman's Carry all Mechanized Equipment Landrover (CaMEL), HDT Robotics' Protector, Mesa Robotics' Armored combat Engineer Robot (ACER), and the Synbotics Mission Unmanned Ground Vehicle Squad Support (MUGV-SS) developed by DRS Technologies.
Other robotic companies participating included: Lockheed Martin, QinetiQ North America, and Boston Dynamics.
This is the third time that 5D Robotics has attended the Robotics Limited Demonstration at Fort Benning. The company will unveil its new remote hazard detection kit at Picatinny Arsenal at the end of October for U.S. Army leadership responsible for defeat of Improvised Explosive Devices.