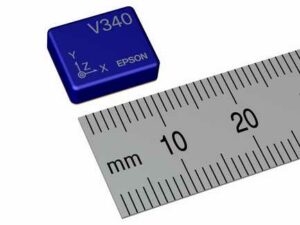 Epson Electronics America (EEA) has developed a breakthrough new product, the M-V340, for its inertial measurement unit (IMU) lineup. The new product will be demonstrated for the first time publicly at AUVSI's Unmanned Systems 2013, the world's largest international exposition of unmanned systems to be held from August 12th-15th in Washington, DC, USA.
The new 6-DOF IMU has three axes of gyroscopes and accelerometers, plus provides built-in support for two widely-used industrial and aerospace interfaces: SPI and UART protocol. At just 12x10x4mm in size, plus offering 7 degree per hour gyro bias instability and 0.2 deg/rt hr angle random walk, the M-V340 IMU is the smallest high-performance IMU on the market today. Samples of the products will be available for select customers beginning in October 2013. Volume production is slated to begin in April 2014.
The M-V340 IMU is the latest addition to Epson's IMU product family, designed specifically for applications requiring high performance but also ultra-small size, weight and power consumption. Epson's current IMUs, the M-G300 series, have been very successful in a wide range of customer applications due to their small size, low weight and excellent performance. The new M-V340 IMU offers customers the capabilities of Epson's legacy IMUs in a package that is over 90% smaller, built to exceed Epson's standards of high reliability and performance.
The new IMU is simple to install and connect in unmanned systems, down-hole drilling equipment, medical devices, commercial products and a variety of other industrial and aerospace products and systems.
"The M-V340 is a quantum-leap forward in MEMS IMU technology, achieving such a high level of performance in such a compact size," says Bob Porooshani, General Manager, EEA. "One of the biggest selling points of this IMU is the simplicity of its design, requiring only 18mA of power to function and capable of withstanding high vibration and shock."
Leveraging the inherent stability and high resolution of its gyroscopic sensors, Epson is able to achieve high IMU performance without requiring significant processing or complex algorithms for error compensation. "This major reduction in form factor can be attributed to the efficiency of Epson's gyroscopic sensors, which inherently reject error from vibration and shock, plus exhibit extremely low drift even without compensation," said Yoshiyki Moriyama, Chief Operating Officer of Epson's Sensing Systems Operations Division. "Without being encumbered by large processors and additional sensors for error compensation, we are able to offer a product that delivers high performance without sacrificing size, weight and power consumption."
Epson plans to develop a complete M-V300 series product line as part of their larger IMU product family, tailoring the development of new variants to specific applications where high performance, ultra-small size, low weight and low power consumption are paramount.