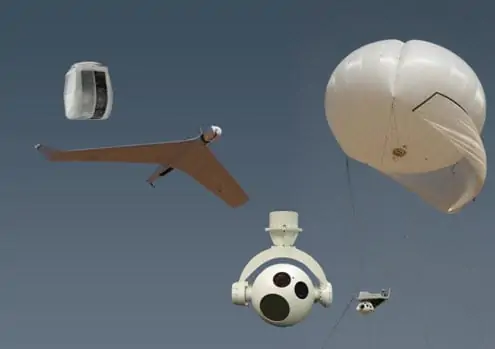 CONTROP is demonstrating its state-of-the-art SPEED-A EO / IR Camera Payload for Surveillance on Aerostats and Balloons at the International Paris Air Show 2013.
The SPEED-A is a unique EO / IR payload with unmatched capabilities which were specifically developed for use on tactical aerostats/balloons because of its being a state-of-the-art gimbal system – with three gyro stabilized axes. In addition to the pitch and yaw traditional axes, the SPEED-A is also stabilized in the roll axis, which compensates for the unique roll movement of balloons. The powerful Continuous Optical Zoom Lens in the Thermal Camera ensures continual viewing of the target during zoom-in and zoom-out, as well as Image Enhancement features for low visibility conditions. The SPEED-A is also available with an optional Laser Range Finder (LRF). Weighing only 23 kg, the breakthrough SPEED-A camera payload is ideal for static balloons, providing long range performance capabilities and superior surveillance images.
CONTROP's SPEED-A payload has recently been ordered by yet an additional customer – this time in Europe – for surveillance applications on aerostats and balloons. The SPEED-A is also being used by the Canadian Army domestically and overseas onboard Aeronautics' Skystar 300 surveillance aerostat. The SPEED-A is field proven and also used in Israel and multiple other locations with extraordinary results for base and force protection – as well as border protection – and is providing unsurpassed surveillance performance. This extensive and proven operational experience with the SPEED-A provides optimal security of a Forward Operating Base (FOB) in order to ensure secured support of tactical operations.
CONTROP believes that the SPEED-A aerostat payload system can also be well used to provide unique and proven solutions for many other countries as well – for border protection, site security and force protection, due to its versatility for a variety of surface terrains and missions.
CONTROP has six operating camera systems on display at the Paris Air Show – the SPEED-A, DSP-1, SHAPO, T-STAMP, M-STAMP and HD-STAMP and will provide visitors with hands-on operation of these unique, prize-winning camera technologies.
CONTROP was recently awarded the prestigious prize from Technologies for Technological Innovation in Aerospace for development of the STAMP family of Stabilized Miniature Payloads for Small UAVs. This prize was awarded in recognition and appreciation for CONTROP's contribution to the success of the STAMP project and its significant contribution to national security.
Find suppliers of Gimbal Payloads for unmanned applications >