In the midst of a recovering economy, a 7.7 percent unemployment rate and federal sequestration, a group of Central Florida entrepreneurs have come up with an idea on how to help government — and they want to start with the Federal Aviation Administration (FAA).
"The FAA like so many agencies is overworked and underfunded, and my company wants to relieve some of the burden through a strategic partnership", explains Al Ducharme, a founder of Hoverfly Technologies and associate professor in the College of Engineering and Computer Science at the University of Central Florida (UCF).
Hoverfly Technologies develops remotely piloted aerial robots that enable nearly hands-free flight and effortless video capture in the air. The company recently created a social media buzz after demonstrating the robot for the producers of the Golf Channel's "On the Range" show.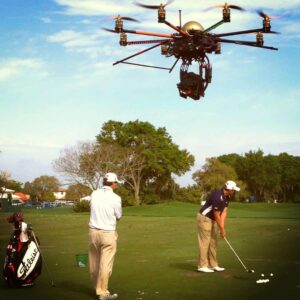 "The world's most versatile aerial robots are what we make. Enabling people to share their vision through incredible aerial photos and video is what we do," Ducharme says. "The film and entertainment industries have used our systems to capture everything from the Aztec ruins to Amazon rainforest tree canopies. We got a call from the Golf Channel, and they wanted to see the filming ability of our Hoverfly system at the Arnold Palmer Bay Hill Classic in Orlando."
On March 19, Ducharme set up some line of sight shots in a closed area for the "On the Range" producers. The show takes viewers to the tournament practice range for an inside view on how players are preparing for this week's PGA Tour Arnold Palmer Invitational.
When a couple dozen journalists used Twitter and Vine to share images and footage of the Hoverfly demo, the response was deafening. Hoverfly received mentions from Titleist, the Golf Channel, Callaway's Chad Coleman; and coverage from USA Today and Business Insider, to name a few.
"Our company received coverage from bloggers and news outlets like USA Today, affirming what we already knew – there is significant industry demand, job creation and economic growth potential for commercial use of aerial robots," Ducharme says.
However, the FAA prohibits using aerial drones commercially in the United States.
Hoverfly Technologies already has an existing flight school in which it trains its customers on how to use its robotic systems. Now, the company wants to partner with the FAA to create a 'Film Flight School' certification program to focus on safety precautions and agency stipulations.
"We want to work with the FAA so that tens of thousands of Americans are allowed to use aerial robots for commercial hire," explains Ducharme. "There's a lot of talk about drones; our systems are not armed drones that the military uses. We're talking about line of sight, remotely piloted robots affixed with cameras that are operated on private property with the permission of the owners."
Just last month, the FAA began soliciting proposals to create six drone test sites around the country, and Florida is one of the states vying for the opportunity.
"Hoverfly wants to offer an immediate solution to the FAA in form of this certificate program to allow people to use aerial robots commercially in closely watched conditions," Ducharme says. "We have the ability to collect significant data about the commercial use of drones, and we'd love to share it with the FAA."