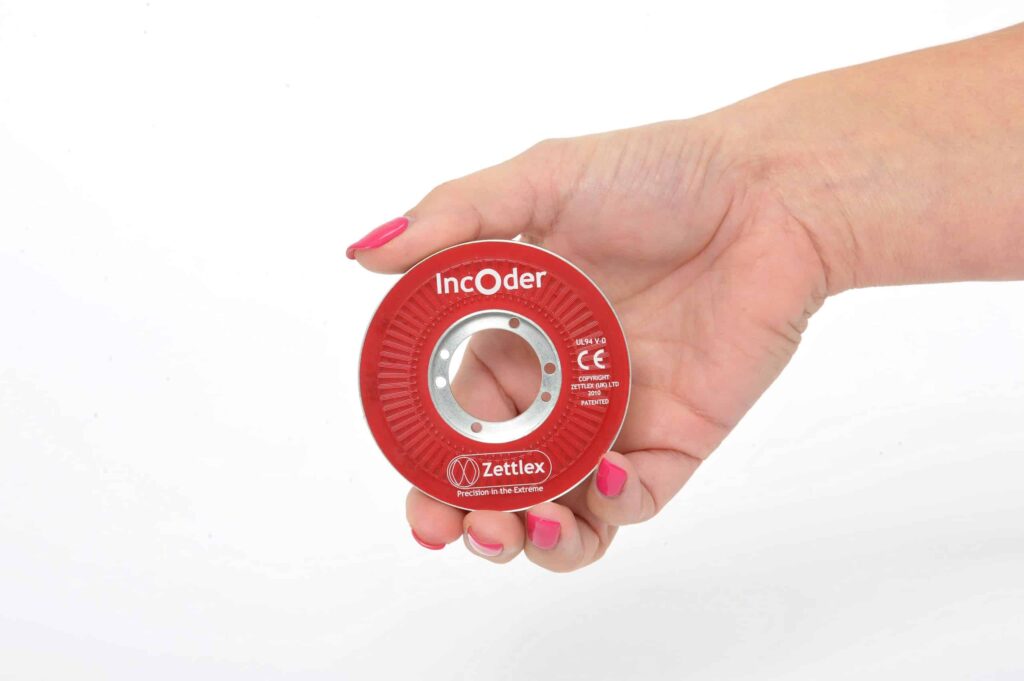 Cambridge-based sensors company Zettlex has massively expanded its IncOder product range to include a choice of more than 30,000 different product variants.
The IncOder range allows customers to mix and match a range of options so that the final product matches their exact requirements. The IncOder range now includes high and low resolution versions (14 to 21 bit options); IP67 integral cable; servo clamp format with plain rotor; 55 deg C operating temperature option; and mix-and-match rotor and stator mechanical formats.
The IncOder product guide has also been expanded to include more information on installation, zero setting, applicable standards, as well as further details on Zettlex manufacturing and quality.
IncOders are precision, non-contact, absolute angle measuring devices that use a unique inductive technique and may be considered as an inductive encoder. The sensors are suitable for precision measurements in harsh environments such as industrial, military and aerospace equipment – where electrical contacts, optical or capacitive sensors may prove unreliable or where traditional resolvers, synchros or Inductosyns are too bulky or expensive.
IncOders have two parts, a stator and a rotor. Each is shaped like a flat ring. The large bore makes it easy to accommodate through-shafts, slip rings, optical fibres, pipes or cables. The stator is powered and the rotor is passive. The stator contains all the electronics necessary to receive power and to generate the output signals. The output signals from the stator show the absolute position of the rotor relative to the stator right from power up.
There is no need for compliant couplings and the rotor & stator can simply be connected to the host product. Precise mechanical mounting is not required and there are no bearings. Operation is unaffected by condensation or dust. Robust, anodised aluminium alloy housings and monolithic constructions are used for both rotor and stator.
As there are no contacting, delicate or wearing parts, there is no need for any periodic replacement, service or maintenance. IncOders are therefore used in a wide variety of applications including rotary joints & gimbals; actuator servos & motor encoders; electro-optic & infrared camera systems; heliostats & solar equipment; robotic arms & CNC machine tools; calibration equipment; light & heavy calibre weapons systems; targeting systems & range finders; antenna pointing devices & telescopes; packaging & laboratory automation; medical scanners & surgical equipment; cranes & telescopic manipulators. IncOders also have a solid track record in safety-related applications, including airborne equipment and weapons systems.
IncOders are made in the United Kingdom, contain no ITAR restricted components and do not require an arms export licence unless they are greater than 1000mm in diameter.