In this article, Wouter Deknopper, Vice President and Managing Director, Maritime at Iridium Communications, explains how the Iridium Certus multi-service platform can provide reliable connections and critical BVLOS communications for unmanned maritime applications.
---
Artificial Intelligence (AI) and automation technologies are no longer futuristic ideas, they are realities. Most people are familiar with a degree of autonomy, for example autopilot systems on aircraft, cars or ships. However, the degree to which autonomy impacts our everyday lives is increasing. With the introduction of self-driving cars, autonomous systems are making a global impact across many industries. In particular, the maritime sector has rapidly adopted AI and autonomous systems with a view to increase safety and decrease fatigue upon crew members. For instance, in 2022 the Mayflower Autonomous Ship captured the public's attention and imagination as the vessel independently sailed from the southern United Kingdom to North America, eventually reaching Plymouth, Massachusetts.
The entire maritime sector, including the commercial, government, defense and energy segments have seen the value that Uncrewed Surface Vessels (USVs) and Autonomous Surface Vessels (ASVs) deliver. For example, offshore and renewable energy companies have deployed USVs to accelerate traditionally human resource intensive operations such as survey missions. USV and ASVs can also be deployed into high-risk environments which may be hazardous to humans. Deploying uncrewed vessels for these missions delivers a range of benefits including increased safety, significantly decreased carbon dioxide emissions and operational cost savings.
But, before maritime companies in any sector incorporate uncrewed and autonomous maritime systems into their operations, it is critical they review and augment their overall connectivity strategy to include multiple options, with Iridium L-band satellite communications (SATCOM) as an essential component.
While operating a USV or an ASV asset close to shore, pilots can easily take advantage of terrestrial 4G/5G connectivity. However, when the mission requires operations that are Beyond Visual Line of Sight (BVLOS) of terrestrial networks, capable and resilient satellite connectivity is required. USV and ASV operators have consistently identified the L-band spectrum as ideal for BVLOS connectivity of their assets. An L-band SATCOM terminal is ideal for BVLOS operations and should be integrated into a hybrid communications strategy that blends WIFI, 4G/5G and L-band together, extending the range of USV and ASV operations even further.
Among the available L-band SATCOM solutions on the market, Iridium Certus has been identified by several prominent USV operators as their service of choice in BVLOS communications, offering unmatched reliability when compared to other L-band communications systems.
The data connectivity of Iridium Certus can withstand harsh weather conditions, such as tropical rainstorms or heavy sea states, and unlike other L-band maritime systems, Iridium Certus has small, lightweight and solid-state antennas that are resilient to the pitch and roll of waves. This level of certainty provides peace of mind for USV and ASV operators that their expensive asset will maintain a connection with their Operations Center.
One of the most significant considerations for any equipment onboard a USV or ASV asset is its SWaP (Size, Weight and Power) profile. Operators play a balancing act between the equipment required for the safe nautical operation of an asset; the equipment needed to perform its deployment; and finally, the longevity of the mission.
A high bandwidth Very Small Aperture Terminal (VSAT) antenna may initially seem ideal for USV and ASV assets, but the excessive weight and power demand can easily outstrip the asset's power bus, therefore reducing stability and delaying mission completion timelines.
In contrast, Iridium Certus broadband terminals such as the Thales VesseLINK 700, Intellian C700, and Cobham SAILOR 4300 antennas are powerful and lightweight. With the solid-state antennas weighing as little as 100g, even the smallest sea-going USV and ASV assets can benefit from Iridium Certus connectivity.
To date, Iridium technology is actively supporting multiple USV and ASV deployments around the world. For example, XOCEAN, the world's leading provider of carbon-neutral ocean data, has equipped its global fleet of 29 USVs with Iridium Connected Thales VesseLINK terminals.
Using USVs, XOCEAN has completed over 85,000 hours of survey for world leading energy companies and has delivered over 500 missions in 19 jurisdictions throughout Europe, North America and Asia-Pacific. Headquartered in Ireland, the company operates a global fleet of USVs, which are remotely controlled by a network of qualified mariners and data analysts across the world, ensuring safe navigation and allowing for real-time insights and faster data-processing.
XOCEAN USV pilots are able to receive situational awareness data directly from each USV's Thales VesseLINK terminal, which provides them with real-time command and control (C2) capabilities. This facilitates high-speed BVLOS satellite communications from complex, remote marine environments without support from terrestrial communications or a nearby support vessel. As part of a failsafe communications strategy, some USV and ASV operators have integrated Iridium narrowband devices for asset tracking and C2 as well.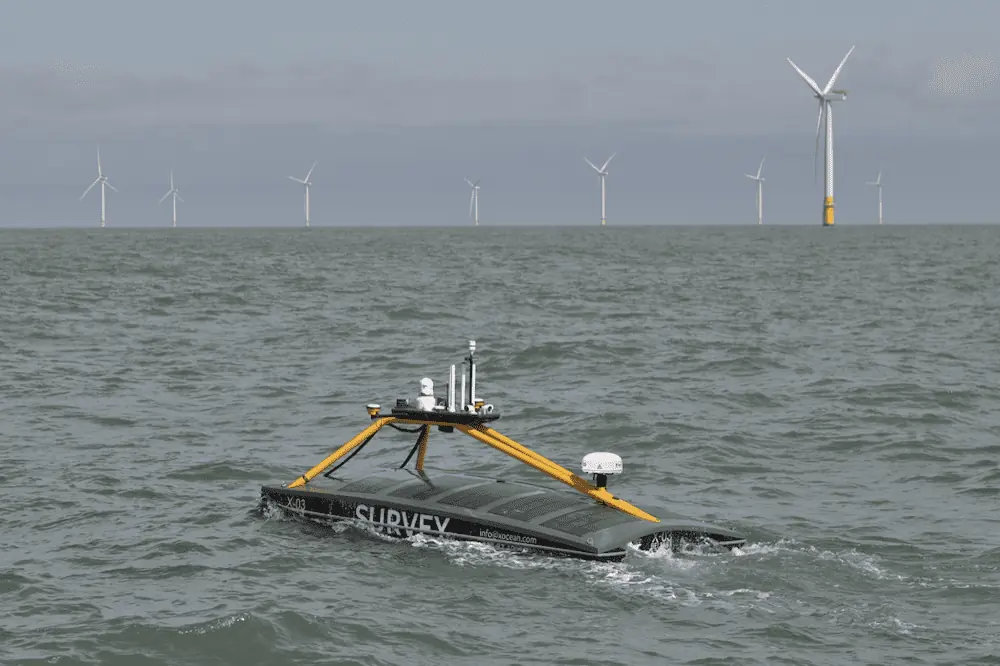 As autonomous and uncrewed asset operations expand on a global scale, USV and ASV operators can depend on the pole-to-pole coverage that only Iridium Certus provides. Currently, Iridium is the only satellite network that delivers truly global L-band satellite connections. The Iridium network, comprised of 66 crosslinked Low Earth Orbit (LEO) satellites, blankets the earth with unmatched coverage. The constellation's LEO altitude of approximately 650 miles (780km) delivers a low-latency connection, while its crosslinked architecture makes optimal ship-to-shore connectivity possible. Ensuring that an asset consistently has communications means that the potential range of deployments or missions are dramatically increased.
The role that USVs and ASVs currently play is unique and set to exponentially expand in the near future. As the importance of the blue economy rises, market segments such as offshore energy, governmental, military and scientific research are beginning to appreciate the fast track to critical oceanic data that USV and ASVs can help provide. Although maritime legislation has struggled to keep up with the rapid increase of the autonomous sector, decision-makers cannot disagree with the positive environmental, safety and economic impacts that autonomy brings.
Iridium is well-poised to aid the growth of this burgeoning sector with dependable, global broadband and narrowband L-band communications that extend the operational range and capabilities of USV and ASV assets across the globe.