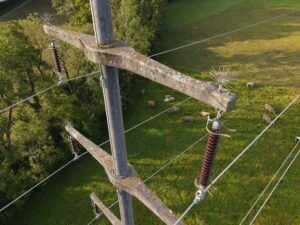 Phase One has released a case study exploring the challenges employees face in asset inspection, the disadvantages of using traditional methods, and how Axpo tackled these challenges by using the latest P3 Payload sensor technology and LINIA's drone software for automated power line inspection.
Read the case study on the Phase One website>
Before purchasing the Phase One P3 Payload with the iXM100 sensor, Axpo used common drones with standard sensors for asset inspection. This provided several down-sites including time needed, unsafe distances to powerlines and masts as well as insufficient data quality. 
With the Phase One solution, Axpo can easily tackle these challenges, as they only need a maximum of four images to show the mast completely, while also getting a better and more detailed shot due to the high-resolution iXM 100MP camera, even though they can fly at greatly increased and much safer distance. The distance gained without losing the information on the image (even more information is more likely) allows us to use standardized flight patterns and thus increase our productivity and quality. 
The P3's integrated Laser Range Finder, allows Axpo to always exactly determine distances and adjust if necessary, to ensure that the focus remains the same – even with lattice masts, where the mast has openings due to the lattice structure.