In this article, gNext Labs discusses the benefits of using drones for infrastructure inspections and how, by visualizing this data through the gNext platform, inspectors have greater power to perform inspections efficiently.
---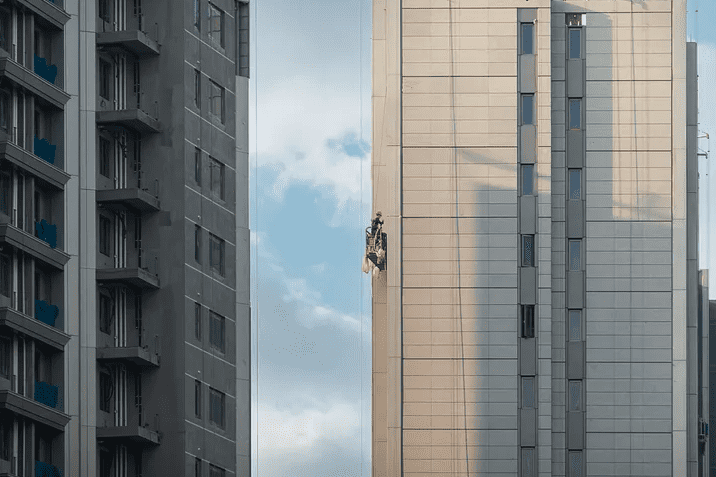 As time marches on, there have been increasing concerns about the safety of conducting manual infrastructure inspections. During the course of an inspection, inspectors as well as any other individuals in the surrounding area are exposed to multiple hazards. For example, when evaluating a roof, an inspector could trip and fall due to steep slopes and damaged shingles or supports. The resources used during infrastructure inspection processes (i.e. ladders, scaffolding, bucket lifts, etc.) alone could cause the inspectors to be severely harmed or fatally injured.
In addition, utilizing traditional inspection methods presents other challenges. In order to inspect pivotal infrastructure assets, inspectors often have to detour traffic, set up work zones, and use hazardous equipment. This can be costly for asset owners as well as nearby communities. To put things in perspective, a manual freeway bridge inspection takes eight hours to complete and can set asset owners back $4,600. Traditional inspections can interfere with regular day-to-day activity, which could make some local residents or neighboring business owners unhappy.
In addition to hazards, there are significant limitations with manual inspection methods. Infrastructure elements may not always be easily accessible which hinders the inspectors' ability to capture asset data accurately and safely. Key features or defects could be missed entirely or not documented decently, which can and has been proven to be detrimental.
With so much at stake, many asset owners have begun seeking alternatives to traditional inspection methods. Inspectors have an essential role in keeping people safe — but the number of risks they face is concerning. How can we make inspections and infrastructure safer for everyone involved? Enter drones.
Drones Provide Insights From Afar
In 2014, a massive wildfire burned 256,108 acres across Carlton, Washington. The Carlton Complex Fire wreaked havoc on the local communities, decimating more than 300 homes, 2 key utility lines, and livestock. Over 1,600 firefighters came to the scene to try to contain the flames. The fires blazed on for 9 days. The aftermath was harrowing and it created many obstacles for the Carlton area.
When it came time to assess the damage, drones were used to capture the imagery. Drones entered the areas that were inaccessible to safety personnel and insurance adjusters. They collected high-quality images and data sets which allowed insurers and real estate personnel to quickly begin assessments. Without drones, the assessment process would have otherwise been a dangerous, strenuous project.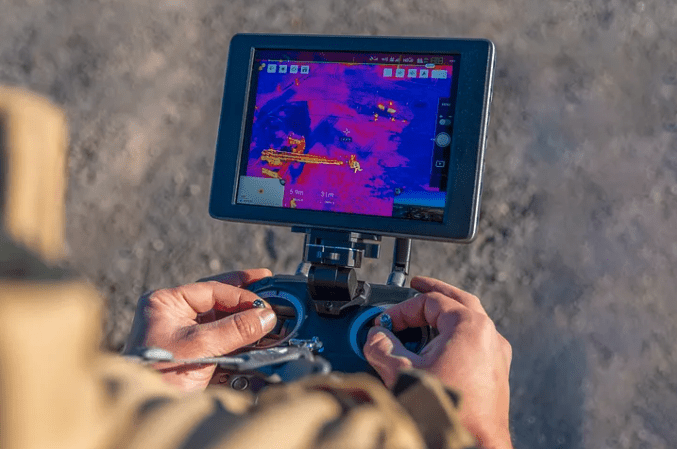 Drones can be used to assess risks — big or small — and they also can help prevent potential hazards before accidents occur. More asset owners and insurance companies are conducting aerial inspections as drones can bypass complex, risky elements and zoom in to record detailed information. Plus, the extent of damage is not always obvious, therefore having drones capture the data could save lives.
The Michigan Department of Transportation reported that drone inspection saved time and the number of people necessary to perform safety inspections. During a case study, researchers found that manual bridge inspections required four people and take eight hours to complete. Drone inspections could be completed by two people in two hours. Rather than the typical $4,600 expense, the drone inspections cost approximately $250. Overall, drones proved to increase savings.
In September 2022, the U.S. House of Representatives passed the Drone Infrastructure Inspection Grant Act. Rep. Greg Stanton stated, "There's a nationwide backlog for critical infrastructure inspections — and it's because traditional methods are often time-consuming and expensive, and can even be dangerous. Using a drone to inspect infrastructure in hard-to-reach places — such as underneath bridges — can speed up the inspection process, is safer for workers, and can help save states and local transit agencies money."
Drones can be fitted with various types of sensors to collect information like chemical signals, sound, light, and the presence of magnetic objects. Infrastructure sectors can capture clearer images of assets when using drones equipped with infrared, thermal, or HD imaging. Some drones have GPS trackers and radar which are especially useful for navigating and location-sensing during mapping and surveillance. The ability to effectively capture data in high-resolution aids users in surveying, mapping, and inspection processes throughout several industries. With such powerful data collection capabilities, inspectors can generate 3D models with comprehensive coverage. This allows them to perform higher-quality inspections.
Manage Risk with Actionable Data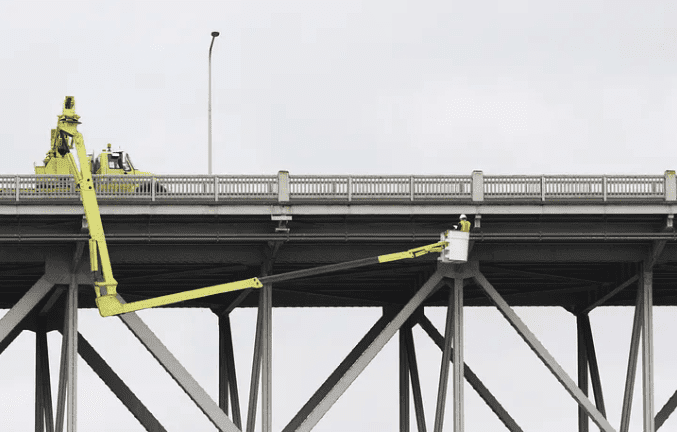 By utilizing aerial technology, inspectors, insurers, construction project managers, and surveyors are able to obtain images of assets and surrounding features that are not otherwise visible. This means drones enable them to perceive the true condition of the infrastructure. Drones can collect vital asset data much more efficiently with much greater details than one could acquire in a manual inspection. They can help users identify points of interest that can prevent potential challenges or disasters.
In the case of insurance claims, drone inspections generate a vast database of asset data before and after claims which aid insurers in determining the validity of claims. Rather than relying on memory or lesser-quality asset footage, inspectors have access to high-resolution aerial images and video.
After the Michigan DOT worked with the Michigan Tech Research Institute in 2014, MDOT Engineer of Operations and Maintenance Steven J. Cook stated that "the unmanned aerial vehicle provided a mechanism to keep our workers out of harm's way…" Instead of sending personnel out in the field where they may be exposed to harsh conditions, a pilot can remotely control the drone in a safe, comfortable location.
Leveraging Drones with gNext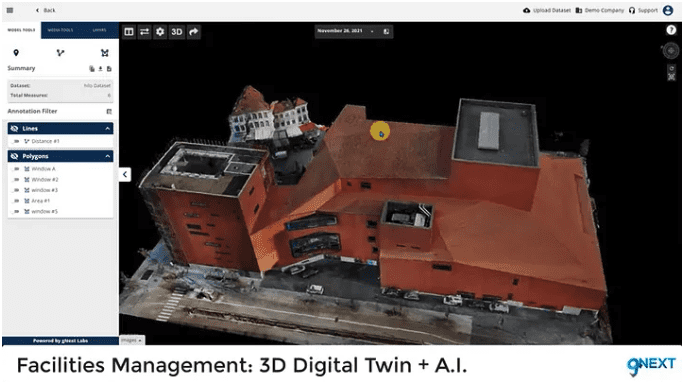 Drone technology allows for better inspections. By partnering with gNext, the goal of creating safer civil infrastructure is all the more attainable. Our platform enables customers to process asset data and gather mission-critical insights in a secure environment. gNext converts video and images into accurate, scalable, and shareable digital models. The gNext Platform provides users with dynamic mapping and analytics to streamline infrastructure inspections. It can be used to process both aerial and vehicle-captured data, so those who aren't using drones still benefit from leveraging the gNext Platform.
gNext partner Skydio is one of America's leading drone manufacturers and is one of the best-rated drone companies in the world. Together, we aim to make inspections seamless and more effective. Skydio's drones can fly autonomously thanks to AI, allowing asset owners to continuously and remotely monitor progress and detect changes on-site. Users obtain high-quality, real-time data from their desks or anywhere! Teams can automate land surveying and assessments with minimal preparation, enabling pilots to perform inspections in less time and more frequently. Inspectors are then able to visualize this data through the gNext Platform. With Machine Learning and Computer Vision Assist, gNext users can identify defects and features of interest with ease. In just a few clicks, they can develop valuable insights and make key decisions in a timely manner.
Where this drone data is stored matters when it comes to cybersecurity. Cyber threat actors make constant efforts to steal valuable asset data off of online networks which many asset managers use. This is what makes cloud-based platforms a favorable way of storing this asset data. On the gNext Platform, all captured data is converted into highly accurate models using secure cloud-based processing. All files are protected with end-to-end encryption which means only you and any authorized personnel can access the data — no one else. Neither hackers nor unwanted third parties can access your data on the gNext Platform. And that's not the only benefit of cloud-based security. Cloud computing also helps users make faster insights. Anil Nanduri, Vice President and General Manager of the Drone Group at Intel, believes that the cloud may be the next frontier in expediting the drone workflow by helping critical infrastructure synthesize data while drones are still airborne.
Take Inspections to the Next Level
The gNext Platform is changing the game. We aim to partner with inspectors, insurance companies, and asset managers to make our world's infrastructure safer and more sustainable. See what gNext can do by requesting a demo.