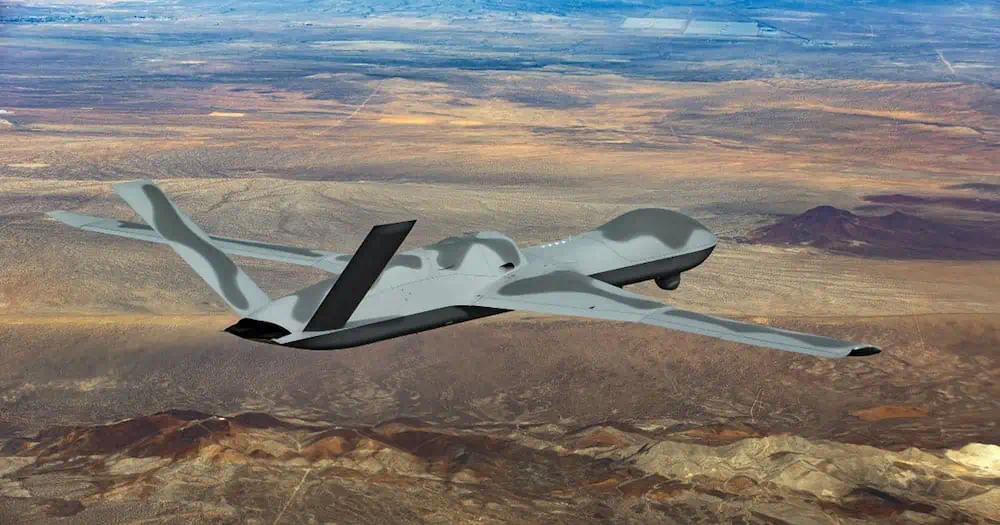 General Atomics Aeronautical Systems (GA-ASI) has flown live, tactical, air combat maneuvers using AI pilots to control a company-owned MQ-20 Avenger UAS.
Collaborative maneuvers between human and AI pilots were conducted using GA-ASI's Live, Virtual, Constructive (LVC) collaborative combat aircraft ecosystem over a Low Earth Orbit (LEO) SATCOM provider's IP-based Mission Beyond Visual Line of Sight (BVLOS) datalink.
The LEO SATCOM connection was also used to rapidly retrain and redeploy AI pilots while the aircraft was airborne, demonstrating GA-ASI's ability to update AI pilots within minutes.
This marks the first deployment of an LEO SATCOM provider connections running on an operationally relevant unmanned combat aerial vehicle platform. The team used two L3Harris Technologies RASOR Multi-Functional Processors (MFPs) – one that housed the transceiver card and another that controlled the BVLOS Active Electronically Scanned Array (AESA). The test aircraft was outfitted with a Ball Aerospace BVLOS AESA system, capable of full duplex operation.
The demonstration highlighted GA-ASI's commitment to operationalizing collaborative combat aircraft by fusing innovative future warfare technologies, such as GA-ASI's AI pilots and LVC ecosystem, and L3Harris and Ball Aerospace BVLOS datalink solutions.
"The flight demonstrated GA-ASI's unmatched ability to fly autonomy on real, tactically relevant, unmanned combat aerial vehicles," said GA-ASI Senior Director of Advanced Programs, Michael Atwood. "It displayed effective BVLOS Command and Control through the collaboration between three defense primes. This showcases our rapidly maturing collaborative combat aircraft mission system suite and moves us one step closer to providing this revolutionary capability to the warfighter."
GA-ASI leveraged its end-to-end collaborative combat aircraft ecosystem for the flight that fused third-party capabilities, human-on-the-loop control, and autonomy to enable effective human-machine teaming for 21st century conflicts. Operator commands were captured via Hands On Throttle-And-Stick (HOTAS) controls and were sent via LEO SATCOM to AI pilots running Reinforcement Learning (RL) algorithms. AI pilots autonomously tracked and maneuvered around dynamically, and updated entities specified via HOTAS.
Operators were provided updates from AI pilots on a cockpit heads-up display and could dynamically re-task via HOTAS as the mission evolved. In addition, data from agent performance was collected and sent to the ground where agents were retrained to improve performance, and then redeployed via LEO SATCOM in a matter of minutes.
This is another in an ongoing series of technology insertion and autonomous flights performed using internal research and development funding to prove out important concepts for UAS.
Find suppliers of Drone Satellite Communications equipment>>