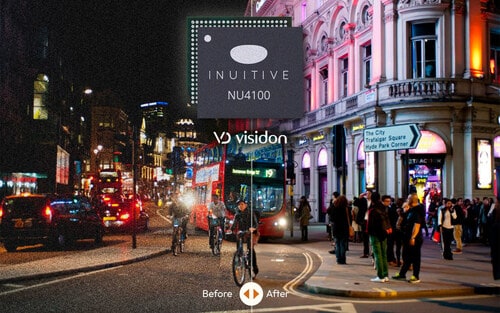 Inuitive, a leading vision-on-chip processor company, and Visidon, an AI-based image and video enhancement software provider, have announced the release of a high performing, accurate, and real-time low light enhancement solution for unmanned applications operating in challenging light conditions.
The company's co-developed neural networks-based low light enhancement solution, is now available for deployment, and addresses the main issues in traditional noise reduction algorithms for a wide variety of edge devices, such as drones, robotics, electronic devices with cameras, and surveillance systems.
The solution combines Inuitive's all-in-one NU4100 vision-on-chip processor which incorporates AI-powered image processing and depth sensing, with Visidon's advanced low light enhancement technology, resulting in a significant leap in vision technology.
For robots to perform well in low light conditions, their vision processor must enhance and process low-light video quickly – a capability possible only on the Edge. Enhancement includes denoising mixed noise in the image due to low light, severe weather or environmental conditions. Visidon's enhancement solution uses neural networks to effectively extract signals from the noise. Inuitive's NU4100 vision-on-chip processor hosts the Visidon solution, allowing robots to utilize it for processing.
The new co-solution allows high-performance robotic applications and enhances consumer communication and surveillance quality in real-time, even in the most challenging low light environments. The high efficiency, low power solution enables impeccable accuracy critical to use cases such as robot use at night, and drone flights in the dark, which has only been available in the past via advanced and highly costly sensors.
Shlomo Gadot, CEO at Inuitive, commented: "We are very pleased to have partnered with Visidon, who are a great addition to our ecosystem of software partners. Through our co-developed solution with them, we now offer stellar image quality even in the most challenging light conditions, not only unlocking a huge market potential but also democratizing access to such technology."
Markus Turtinen, Co-founder and CEO at Visidon, commented: "We are extremely pleased to be working together with Inuitive. Our partnership further expands our reach in the robotic applications market and beyond. We look forward to deepening this partnership."
Find providers of Image & Video Enhancement Software for Drones & Unmanned Systems >>