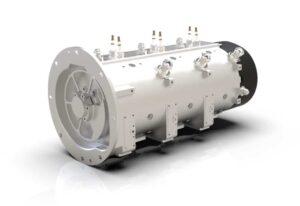 Sky Power International has confirmed that it will be exhibiting two new Wankel engines for UAS (unmanned aerial systems) at the 2022 AUVSI Xponential trade show in Orlando, Florida. The SP-360 DRE is a double-blade Wankel engine with up to 51 hp (38 KW) at 6000 RPM, and the SP-540 TRE is a triple-blade Wankel engine that delivers 74 hp (55 KW) at 6000 RPM.
In addition, Sky Power will also be showcasing its extensive two-stroke engine portfolio. These engines are offered in different configurations within a wide ccm range, with carburetted and fuel-injected versions available for each family as well as heavy-fuel options. This means that customers can choose between three different configurations based on one engine core system. Furthermore, all engines can be equipped with a starter / starter generator, allowing the engine with the most important subsystems to be integrated into an aircraft in a space-saving manner.
The entire Sky Power engine portfolio can be used for hybrid applications, and the company's SP-55 FI TS generator in particular has been developed for this purpose. It is the first two-stroke engine from the company that has been developed purely for the generation of electrical energy. For UAVs, the benefit of such a solution is extended range, flight time and carrying capacity.
The SP-55 FI TS Generator is equipped with an injection system and a brushless DC motor for power generation. To cool the entire unit, an integrated cooling system was developed for both the engine and the generator. The injection, the control and temperature control as well as the air supply are located on the side of the engine, and the generator is mounted on the rear output shaft, making the system highly compact.
Karsten Schudt, Managing Director of Sky Power International, commented: "As we do every year, we will again be able to present a whole range of product innovations at Xponential. As a propulsion system, Wankel engines are exceptionally lightweight and require a smaller installation space than comparable two-stroke engines. Minimal radial or torsional vibration makes this motor particularly interesting when high performance optics or sensors are used in UAVs. The ability to mount these motors vertically at 90 degrees increases flexibility and is suitable for helicopter applications. We are pleased that we can now meet high performance requirements with the extended Wankel motor family."