In this article, the team at Drone Digital explore the increasing use of drones in agriculture and the rising demand for qualified drone pilots. They also unveil their new online platform that connects farmers with pilots in their area, to help them find the right professionals for their project requirements.
The Crop Science Society of America perfectly encapsulates the foremost contribution of drones to agriculture when they quote Tennessee State Professor Jason de Koff saying; "The easiest advantage of drones is that they can be a huge time saver." De Koff explains further. "Rather than going out and scouting fields on foot or by truck, they can scout them with a drone in a lot less time and pinpoint specific areas that they might want to visit for closer inspection."
De Koff takes drones around to local farmers to show them what drones can do and how to use them. Thus he is preparing a generation of farmers on the wisdom of hiring a drone pilot.
Current uses of drones in agriculture
Precision fertilizer programme planning: Starting ahead of the major growing season in late winter, drones are used to take hundreds of images of the developing crops. These are used to create a map that helps identify early patterns in early growth. This helps to clearly identify areas where there is a need to spray fertilizer. Thus, farmers can plan a spraying program with a level of efficiency previously unknown.
Weed and disease control programmes: Similarly to the planning of fertilizer spraying, drones can take hundreds of images across a farm and collate data on where weeds are growing.
Tree mapping: With their ability to easily gain a birds' eye view and image-map large areas, drones can be used to map the placement and health of orchard trees. The same applies to timber farming, where drones can monitor remote forestry locations.
Crop Spraying: Previously, the most advanced methods for crop spraying were small aeroplanes. Drones can be programmed to spray varying amounts depending on the crops and their local needs.
Future use of drones in agriculture
In the past, the only means of monitoring large fields was spot-checking. Farmers could only hope that any future problems would show up in time in these random checks. With drones, relying on the roulette of spot checks can become a thing of the past. With accurate, simultaneous data collected across the entire farm at once, a farmer is much more easily able to identify problems before they spread or get out of hand. He or she can then take appropriate preventative steps.
Compiling so much data at the same time has never been possible before. With drones, farmers can exponentially increase their access to precision information that can simultaneously collate the condition of huge pieces of land in peak growing season.
Autonomous drones
The development and use of autonomous drones will allow more drone operators to enter the precision agriculture industry as mission planning and flight control software will simplify and automate processes, allowing for consistent and repetitive surveys that are likely to be faster and more cost-effective for the farmer.
Drone swarms in the future
Predictions are that drones, being light, small and very agile, will become increasingly useful as advancing climate change and ecological devastation creates new pressures on agriculture.
Ideas have been proposed of drones working in organised swarms to fulfil detailed functions in sustaining crops. These could include coordinated networks for detailed fertiliser or crop spraying. Another issue is bees, which are crucial in the life-cycle of crops. As the bee population becomes more sparse, drones are envisaged as a means to replicate the delicate act of pollination.
Importance and benefits of using experienced drone pilots
The current surge of energy in the drone industry has prompted an increase in jobs for experienced drone pilots which is only set to rise. Using fully compliant drone pilots registered with relevant civil aviation authorities ensures farmers are working with professionals, experienced in the demands and challenges of agricultural mapping and surveying, and with a working knowledge of the latest agritech developments.
Connecting farmers with drone pilots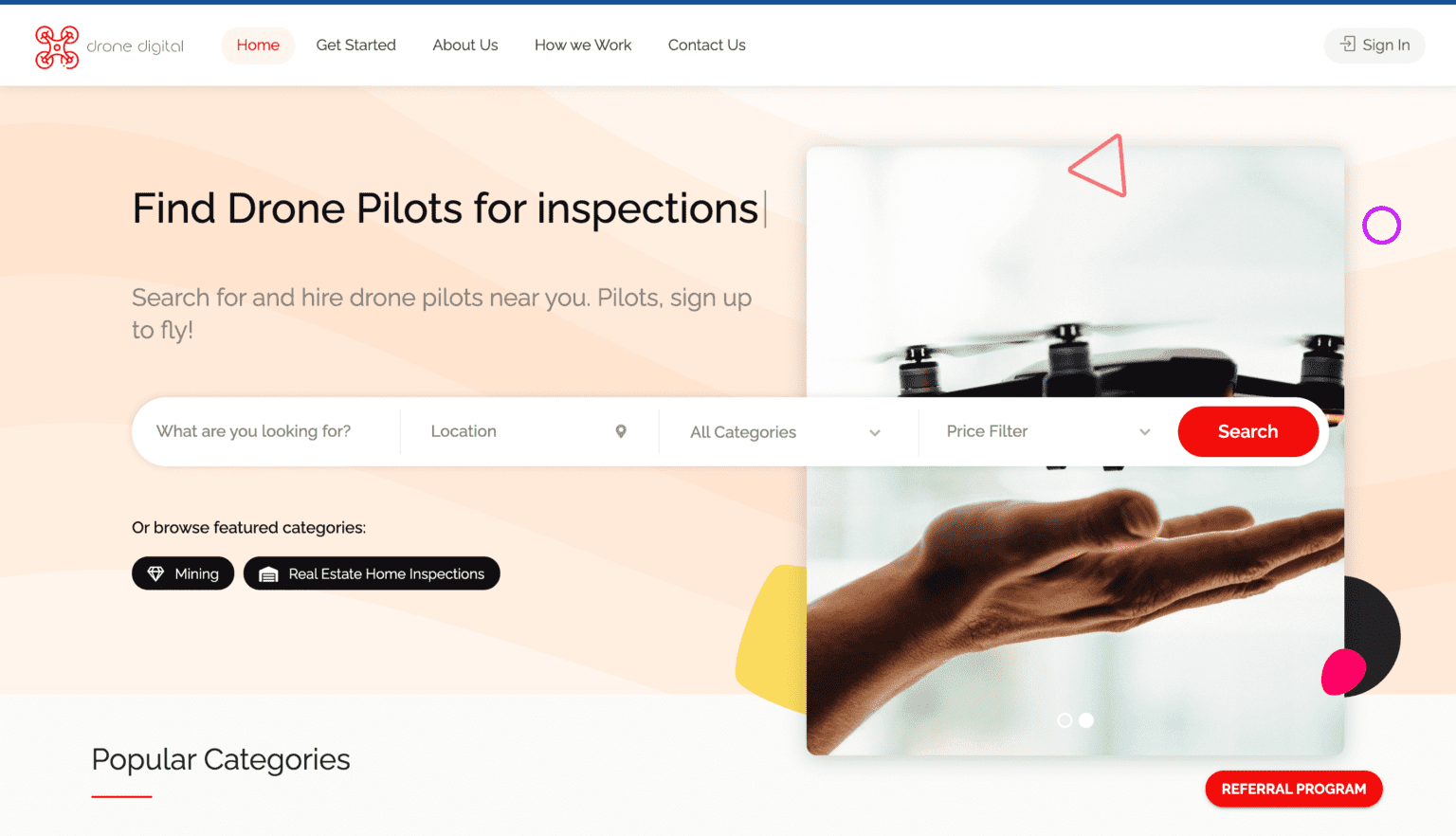 Drone Digital has launched a new dedicated booking website that will make it easy for farmers, and customers in other industries, to search, find, connect with, and book drone pilots. Developed by drone enthusiast Ronald Thurling, the Dronedigital.co platform allows drone pilots to upload their bio's, skill sets, images and videos so they can showcase their capabilities to customers searching for professionals in their area.
Customers can use the site to search for a pilot by entering their own requirements, location and budget. From the relevant search results, they can then view an individual pilot's listing details and availability before booking.
The team at Drone Digital believe the platform will provide a perfectly targeted network of opportunities, to help the drone service industry really fly for professionals looking for new opportunities.
Acknowledgements
The contributors would like to thank the following companies for allowing their images to be used in this article:
FIXAR – The FIXAR 007 is capable of fully autonomous flight, defined and supervised by an operator. The platform shown  is equipped with a proprietary dispenser for granular bio protection distribution.
Microdrones –  Microdrones unmanned aerial vehicles are empowering farmers and agronomists to monitor crop health, identify potential issues and mitigate loss.