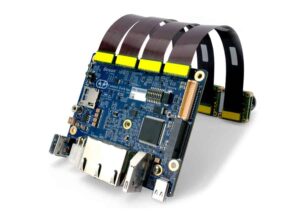 Connect Tech has partnered with machine vision technology developer FRAMOS to create a new carrier board designed specifically for NVIDIA Jetson Nano and Jetson Xavier NX edge AI applications. The Boson for FRAMOS carrier board directly integrates the FRAMOS Sensor Module Ecosystem, allowing easy migration of Jetson-based AI solutions for UAVs (unmanned aerial vehicles) and robotics to a production environment.
Boson for FRAMOS provides a significant size reduction advantage along with double the number of interfaces (four 2-lane or three 4-lane MIPI CSI-2 connectors), increasing throughput for advanced AI vision applications. Direct camera integration to the carrier board eliminates the need for an adapter board and decreases the overall hardware stack height. Boson for FRAMOS comes standard with software hooks in the board support package that automatically connects select cameras in the FRAMOS Sensor Module Ecosystem to NVIDIA's JetPack SDK to minimize software development requirements.
Both companies are members of the NVIDIA Partner Network (NPN), and the new partnership combines their unique hardware and software expertise and support to provide advanced plug-and-play vision solutions that simplify and accelerate development time.
Nathan Dinning, Director of Product Management at FRAMOS, commented: "Joining the NVIDIA Jetson partner ecosystem has allowed us to provide a broad level of sensor and vision support to the Jetson developer community. Connect Tech's experience and reputation within the Jetson community made them the ideal hardware partner for us. When we joined the NPN our goal was to help speed up the development and increase performance of AI-enabled vision applications. Joint hardware and vision products create a coordinated, off-the-shelf solution that takes the guesswork out of the process for customers."
Michele Kasza, Vice President of Sales at Connect Tech, said: "Our customers spend a lot of time and energy developing specialized programs and applications on the Jetson edge AI platform. Moving to a production environment involves a learning curve to determine how your chosen sensors will interact with the hardware you're deploying with. FRAMOS offers such a broad range of high-quality image sensors for customers to choose from. Having each sensor pre-compatible with our hardware significantly reduces the time our customers need to spend going back to development and writing or adjusting code. We're constantly striving to simplify the product development process for our customers, and our partnership with FRAMOS gives us the ability to completely eliminate any potential integration challenges before hardware is in the hands of customers."