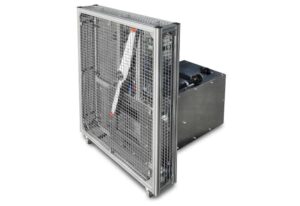 Sky Power has developed a portable test stand for the company's SP-180 SRE hybrid Wankel UAV (unmanned aerial vehicle) engine. The stand is mounted on a wheeled chassis, runs from a 48VDC power supply, and incorporates all main parts of the SP-180 engine system, excepting the electrical system which can be different in custom applications.
In addition to the engine, the test stand also includes a fuel tank, propeller with protective cage, exhaust system, starter generator, engine control unit (ECU) and associated software. It can be used to demonstrate the hybrid-electric SP-180 SRE engine's combustion mode as well as the electrical mode, and the stand's integrated generator can be used to charge additional battery packs. The stand also features a hybrid-boost power mode that combines the combustion engine output and the generated electric energy.
Sky Power offers the stand for purchase as well as rental. The company is currently developing an additional stand for demonstrating solely electrical power generation.
Karsten Schudt, Managing Director of Sky Power GmbH, commented: "The SP-180 SRE engine allows a higher payload capability. With the hybrid-boost power, an additional 15KW, depending on on-board battery capacity, is optionally available. This additional power improves take-off performance significantly. The cooling of the engine is guaranteed by water and oil cooling system, allowing reliable operation in certain challenging environmental conditions. With this configuration, the engine enables new drive and application possibilities, which our customers would like to test on their own premises. Therefore, the test stand was designed in such a way that it can be easily shipped and quickly assembled on site in just a few steps."