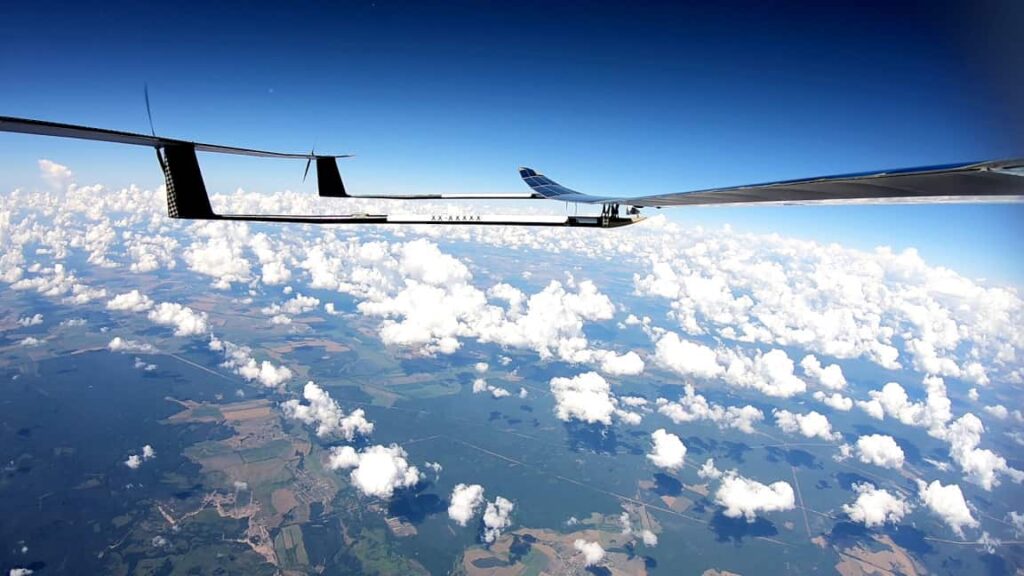 UAVOS has successfully tested the flight control system for its ApusDuo high-altitude pseudo-satellite (HAPS) unmanned aerial vehicle (UAV), confirming that the elongated wings of the aircraft can operate under unstable atmospheric conditions by actively changing their bend. The test flights took place at altitudes of up to 62,000 feet (19,000 m) and brought the total test flight time of the solar-powered UAV to over a thousand hours.
The unique control system does not require mechanization of the wings, thus significantly reducing the weight of the aircraft, improving reliability, and lowering manufacturing costs by greatly simplifying the production of the wings. Overall, the system gives the ApusDuo excellent aerodynamic characteristics.
The ApusDuo UAV weighs approximately 95 lbs (43 kg) with a wingspan of 49.2 ft (15 m), and is launched by a winch. Controlled by changing the geometry of the aircraft, it is designed to linger at an altitude of around 60,000 feet (18 km) for months at a time, providing surveillance or enhancing communications infrastructure.
Aliaksei Stratsilatau, CEO and Lead Developer at UAVOS, commented: "These successful trials represent a new significant milestone in the ApusDuo programme, confirming a flight endurance in unstable atmospheric condition results. In the coming days we will check all engineering data and outputs and start the preparation of additional flights planned for this year."
"UAVOS has recently become a member of the HAPS Alliance. This industry association includes the world leading companies from the telecom, technology, and aviation industries, sharing a common goal of accelerating the commercial adoption of HAPS technologies. The commercialization of HAPS technologies is something that requires the coordinated efforts of multiple industries."