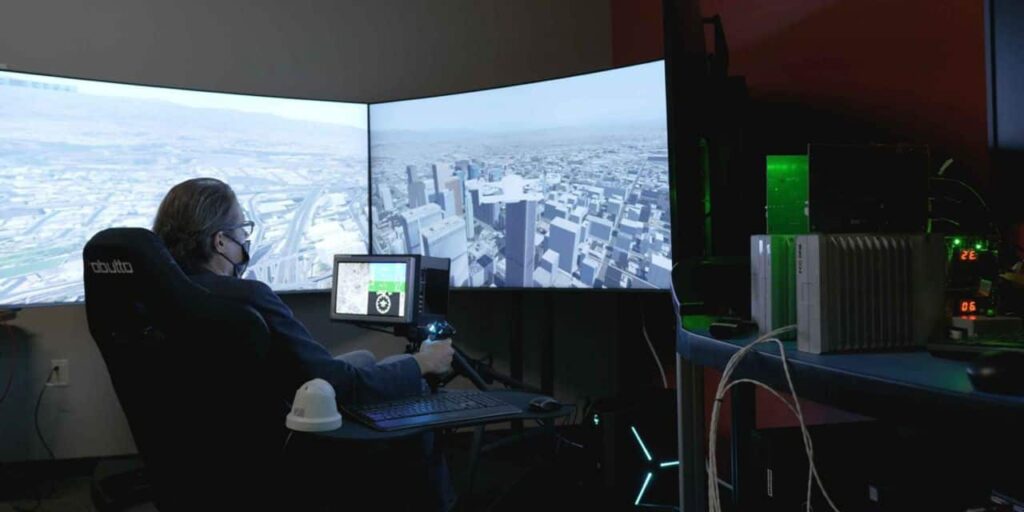 Honeywell has developed a new next-generation avionics research and development lab for unmanned aerial systems (UAS) and urban air mobility (UAM) technologies. The lab, which features the company's state-of-the-art hardware and software capabilities, integrates actual fly-by-wire controls and vehicle avionics and will be used to develop, test and demonstrate Honeywell's solutions for simplifying the operations of future vehicles.
Simplified vehicle operations (SVO) is a process that combines automation and human factors best practices in order to reduce the amount of knowledge a pilot needs to safely fly an aircraft.
The new lab, located at Honeywell's Deer Valley avionics facility in Phoenix, Arizona, has been designed to resemble the front end of an aircraft. It has one seat situated in front of a primary display, with three additional large wraparound displays to view the simulated outside environment around the aircraft. The hardware resembles that typically seen in a traditional aircraft cockpit, and Honeywell's Compact Fly-by-Wire System acts as the brains of the system, with real-world flight routes and actual control laws built into the software. Users can operate a control stick to fly a digital version of their aircraft through a high-resolution model of a city. Honeywell computers and actuators mounted on nearby workbenches adapt in real time to pilot inputs, winds and thermals, and simulated hazards.
Stéphane Fymat, vice president and general manager of UAS/UAM at Honeywell Aerospace, commented: "With the influx of new UAM vehicles taking to the skies in the coming years, we're seeing a growing need for operators to test real-world technology in a lab setting. It is essential that these vehicles are as intuitive as possible and that we have a dedicated space to ensure our systems make that a reality. With this new lab we can fully simulate real vehicle functionality with real hardware for our customers, which will cut back on costly flight test hours and help them reach their goal of attaining simplified vehicle operations."