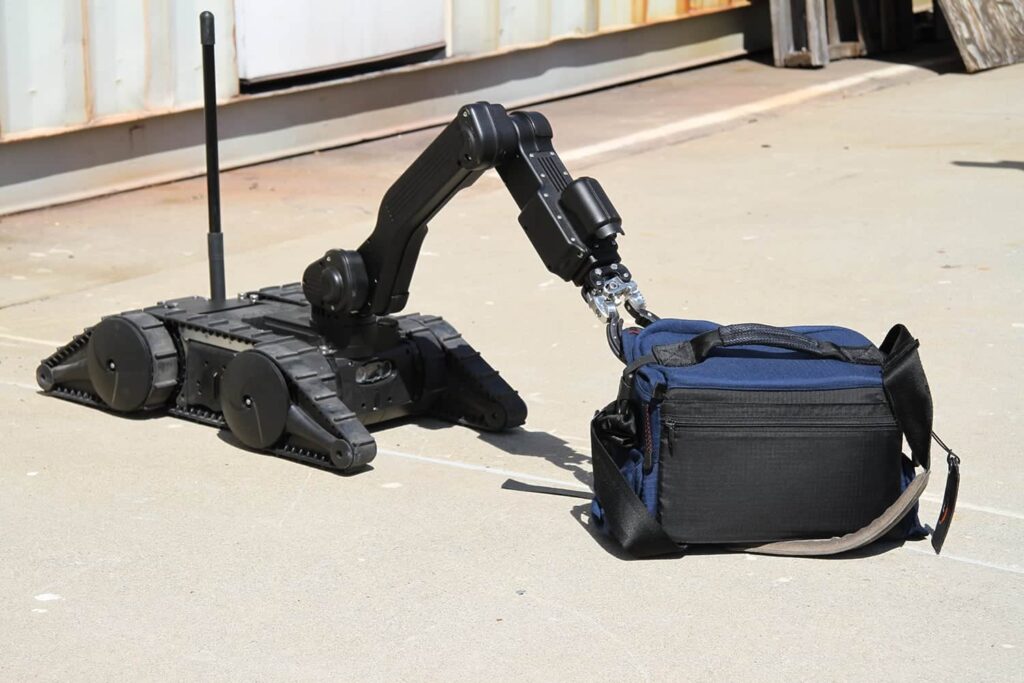 Doodle Labs' 900 MHz Prism WiFi transceiver and 2.4 GHz NM-2450-2G broadband transceiver have been integrated into RoboteX's AVATAR multipurpose UGV (unmanned ground vehicle) in order to provide non-line of sight (NLOS) functionality for the platform. The modular AVATAR platform is designed for tactical applications such as security, explosive ordnance disposal (EOD), and hazardous materials (HAZMAT), providing response teams with the ability to safely and remotely inspect and assess dangerous situations before sending in human operators.
The AVATAR was originally designed by RoboteX from the ground up as a tactical and safety robot for military personnel, and has also become an essential tool for SWAT, law enforcement, and other emergency response teams. The lightweight robotic platform features a unique modular design that allows it to be customized for a variety of real-world critical missions.
In order to successfully carry out such missions, the AVATAR had to be able to navigate buildings remotely, and required a high-throughput wireless link that can send back audio and video and operate its command and control functionality. This link would need to maintain connectivity and throughput in non-line of sight (NLOS) conditions, communicating through walls, building infrastructure and other obstructions. Suitable transceivers would require high transmit power and provide a solution to Fresnel zone interference, which is caused by the proximity of the robot to the ground. Components would also need to be highly durable and vibration-proof.
After testing a variety of different approaches, RoboteX approached Doodle Labs with the challenge of finding a wireless link solution that could meet these challenging requirements. It was determined that the 900 MHz (NM-915-2F) and 2.4 GHz (NM-2450-2F) broadband transceivers best met the requirements. The transceivers were tested for months under the most strenuous conditions and passed all the tests, performing in harsh operating environments and non-line of sight conditions.
The two transceivers from Doodle Labs were successfully integrated into the AVATAR and RoboteX claimed that after extensive research, they found these transceivers to be the best on the market. RoboteX highlighted the transceivers' PCIe interface, small form factor, and Linux driver support as uniquely valuable features.
The AVATAR has been provided to many customers requiring a safety robot solution, both domestically and internationally. In addition to their work with tactical and security communities, members of RoboteX are developing applications for their robotic platform in industry and academia with the company Rover Robotics.