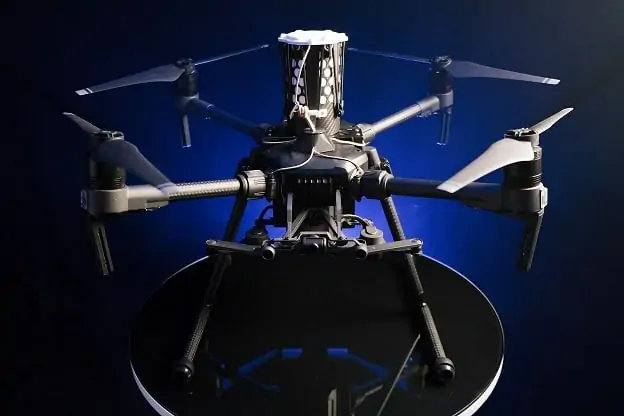 Drone Rescue Systems has developed a new smart parachute rescue system for use with DJI M210 series drones. The new product aims to build on the success of the company's parachute system for DJI M600 drones, which to date is the only accessory for that series of drones to hold ASTM certification.
The DJI M210 V2 is a professional multirotor drone used for a variety of applications such as inspection and search and rescue. The flexible design of the UAV (unmanned aerial vehicle) allows it to be fitted with industry-specific sensors and cameras. These payloads can be extremely expensive, and Drone Rescue Systems' new DRS-M210 system is designed to provide protection in the event of flight system failure.
The system was designed so that the drone's range and flight time would only be minimally affected while providing maximum protection for drone and payloads as well as safety for bystanders. Lightweight parachute material and miniaturized electronics have resulted in a total weight of approximately 430g. The release mechanism is non-pyrotechnic, which in addition to keeping the weight down, also allows the system to be transported with fewer restrictions as the parachute system is not subject to any safety regulations or hazardous materials regulations. The system is deployed via an elastic mechanism that catapults the parachute out of the carbon tube.
The parachute rescue system is equipped with a quick release mechanism and a parachute with a cross-canopy design that ensures a high pendulum and wind stability. Malfunctioning drones can be quickly brought into a stable descent even from low altitudes, and the kinetic impact energy is thus reduced. Installation of the DRS parachute system is simple with a bayonet-lock "Mount & Fly" function, creating a reliable connection between the drone and the parachute rescue system even during unsteady flight or strong vibrations.
Andreas Ploier, CEO and co-founder of Drone Rescue Systems GmbH, commented: "With this new product, we are taking the natural step of securing commercial drone applications as well as police and fire brigade operations, since the DJI M210 V2 drone is used for many of these applications."
"Investments for these drones are sometimes quite high. Therefore, in the event of a crash, special attention should be paid to the protection of the drone as well as the payload."
Use of the parachute system simplifies the issuing of flight permits and approvals according to new EASA Specific Operations Risk Assessment (SORA) regulations, with all flight movements recorded and stored by the electronics. In the event of damage, this data can be evaluated and, if necessary, passed on for clarification.
"This feature can lead to lower insurance rates, depending on the insurance company. Because of these lower rates, the purchase costs for our parachute rescue system would quickly pay for itself," added Ploier.