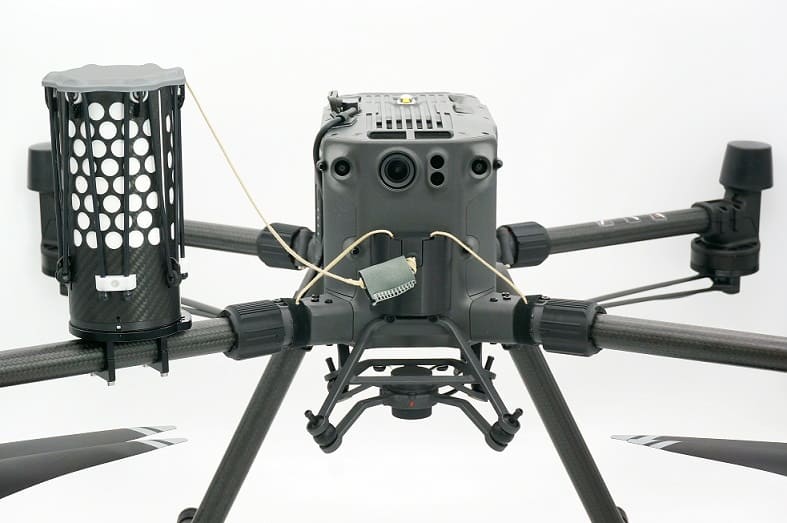 Drone Rescue Systems has launched a new parachute system for DJI's Matrice 300 unmanned aerial vehicles (UAVs). Weighing only 490g, the DRS-M300 has been designed to impact the drone's flight time and range as minimally as possible, while providing maximum protection for both equipment and humans. An even more compact variant with a smaller parachute that only weighs 440g is currently under development.
As with all other Drone Rescue Systems products, the system does not utilise pyrotechnics or CO2 cartridges as a release mechanism, thus reducing weight and ensuring it is not subject to safety or dangerous goods regulations. Instead, the parachute is ejected from the carbon tube by a robust catapult system with a quick-release mechanism.
The DRS-M300 parachute features a cross canopy design, which provides great pendulum and wind stability. This allows damaged drones to be quickly transferred into a stable sink phase even from a low height, thus reducing the kinetic impact energy. Thanks to the "Mount & Fly" function, installation of the DRS parachute system is simple. By using a bayonet lock, the low-maintenance DRS system can be mounted to a DJI M300 in seconds without great mechanical effort, and remains firmly attached to the drone even during unsteady flight or strong vibrations.
The DJI Matrice 300 is a next-generation drone designed for commercial applications, with a flight time of up to 55 minutes, state-of-the-art AI functions, and an advanced detection and positioning system.
Andreas Ploier, CEO and co-founder of Drone Rescue Systems, commented: "Based on the technical performance of the DJI M300, we expect this flight system to match the success of the other DJI models. So it was obvious to us to develop a parachute system for this new model as well. As with other flight systems, the aim here is to protect the drone with the sometimes cost-intensive cameras and sensor systems in the event of malfunction. We want to ensure that the drone can be safely recaptured even in an emergency, including Beyond Visual Line of Sight (BVLOS). With our parachute system, this is always possible due to the electronics being completely independent of the flight controller."