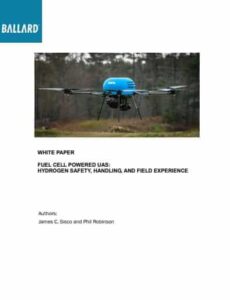 Ballard Power Systems, a leading developer of innovative clean energy solutions and hydrogen fuel cells for drones, has released a whitepaper outlining hydrogen safety standards and efforts currently underway that can be applied to fuel cell-powered drone use. The whitepaper also explores safety and hazard analysis and mitigation methodologies, and aims to correct the misconceptions that exist around the handling and safety characteristics of hydrogen.
The whitepaper gives details of:
Drone PEMFC (proton exchange membrane fuel cell) power system components
Hydrogen refueling system components
The four-stage systematic safety planning approach adopted by the PEMFC community, including details of relevant automotive fuel cell reference standards, a proposed new UAS-specific standard, and sample results from an internal safety review
An example safety plan for field operations conducted by Ballard using a prototype hex-rotor VTOL UAS platform
Hydrogen fuel cell power systems are being developed, evaluated, and integrated into UAS, and are a critical enabler for beyond visual line of sight (BVLOS) operation of Group 1 and 2 UAS platforms (< 55 lb), as they offer a 2-3x increase in flight time over state of the art batteries.
Find suppliers of Fuels Cells for unmanned applications >