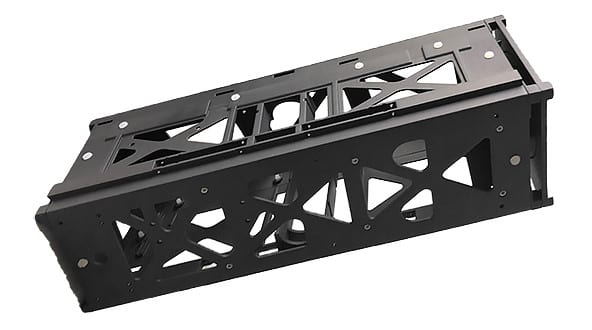 CRP Technology has announced that it has collaborated with the Laboratoire InterUniversitaire des Système Atmosphérique (LISA) in order to create a demonstrator 3U CubeSat structure with selective laser sintering (SLS) using a carbon composite material. The goal was to construct a nano-satellite that would be flight-ready in Low Earth Orbit.
The project, which was also supervised by the French National Centre for Space Studies (CNES), selected a high-performance material from CRP's Windform TOP-LINE family. The CubeSat structure had to survive vibration tests to be able to endure the launch, as well as thermal vacuum tests, and had to pass outgassing requirements.
CRP began the collaborative work with an accurate analysis of the 3D and 2D design files, and suggested alterations that allowed for optimization of part geometries and reached targets for mass optimization and parts integration. CRP then recommended selective laser sintering and the use of the company's Windform XT 2.0 carbon composite material in order to realize the design.
Windform XT 2.0 features several mechanical property improvements over the previous iteration of the material, including 8% increase in tensile strength, 22% increase in tensile modulus, and 46% increase in elongation at break. These improvements mean that Windform XT 2.0 met the required characteristics for this project, such as stiffness, low mass and a very smooth surface finish.
After receiving an optimized .STP file from LISA, CRP then created the functional 3D-printed satellite structure. LISA and CNES performed a variety of tests on the nano-satellite structure, such as vibration and thermal vacuum. The structure successfully passed these tests, as well as meeting the control and testing criteria, and has fully met LISA's standards.
A spokesperson from the LISA team commented: "Thanks to CRP's laser sintering technology and Windform XT 2.0 carbon-reinforced composite material, we obtained very important key advantages such as mass reduction, component integration, outgassing control, thermal expansion, and low surface roughness. We are more than satisfied with selective laser sintering technique and consider Windform XT 2.0 one of the disruptive revolutions in the small satellites arena. We do hope additive manufacturing will be intensively used in space applications."