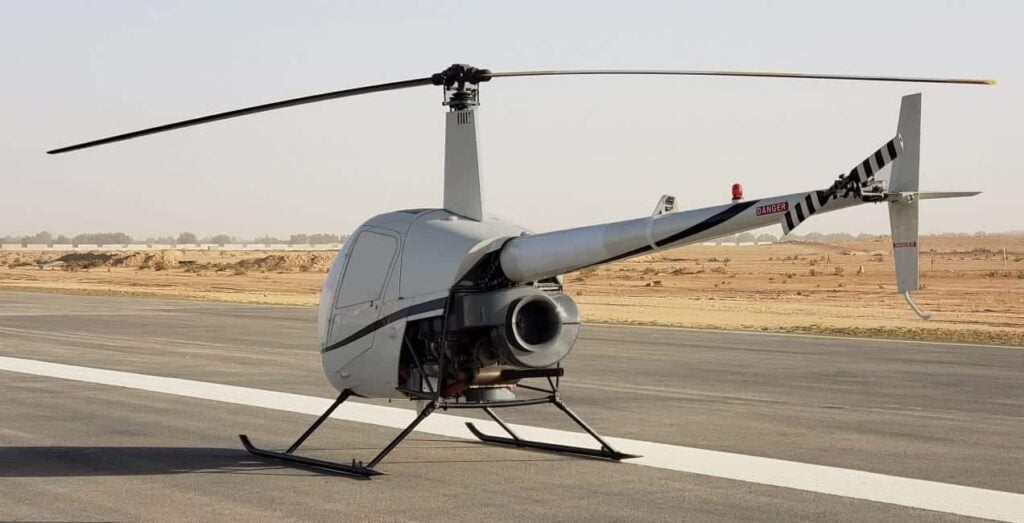 UAVOS has announced that it has successfully converted a Robinson R22 helicopter to unmanned flight and completed programmed missions with the new drone. The first flight, with a duration of more than 1 hour, was fully self-piloted, reaching a height of up to 2200ft (670m). During the flight all scheduled tests were performed including fully automatic take-off, en-route flight and landing. Tuning of the UAV (unmanned aerial vehicle) control settings was also completed.
UAVOS manufactured several of the components fitted into the converted unmanned helicopter, including the autopilot, servo drives, sensor system and additional backup power supply. During the conversion the aircraft electrical system was upgraded, manual control was removed, and the fuselage was altered to fit the servo drives and components of the automatic control system. In addition, the pilot seats were removed and replaced by additional fuel tanks.
Aliaksei Stratsilatau, UAVOS Chairman of the Board and lead developer, stated: "UAVOS' SD-1 high-speed and highly reliable actuators without free play allowed us to achieve precision accuracy control of the helicopter and get full control in all flight modes. We've also developed an autorotation algorithm that increases reliability of the unmanned system. Enhancing an UAV with our autopilot system gives additional features and advantages to the existing options: automatic take-off and landing, remote Ground Controls network capability, dead-reckoning and operations with jammed GPS, auto-rotation landing capability, and high efficiency flight control, based on TECS (Total Energy Control System)."
The converted R22-UV is an excellent platform for future research and testing of various commercial options for unmaned aircraft. Future test flights will include cargo delivery of up to 330lb (150kg) in automatic mode, and flights with duration of 6+ hours using additional fuel tanks and a payload for monitoring the landing surface. UAVOS also plans to check operational limitations of the UAV during night flights and flights under severe weather conditions. One of the top priorities is to test the possibility of outfitting the R22-UV with spraying equipment for agricultural purposes.
Powered by a gasoline engine, the unmanned R22-UV helicopter is able to deliver cargo or carry payloads with a total weight of up to 330lb (150kg) with a maximum take-off weight of 1400lb (635kg). The converted aircraft a has practical ceiling of 13,780ft (4,200m) and has a top speed of 189 kph. The UAV is designed to carry high-precision, heavy professional equipment of up to 88lb (40kg) for a wide variety of missions, including lidar, SAR, heavy optical equipment, and gas analyzers.
The R22-UV can be operated in regions without airfields, under severe weather conditions and during night-time, in conditions which would carry a high degree of risk for a human pilot. The converted helicopter would be indispensable for oil and gas companies which need to deliver cargo to hard-to-reach areas, where chemicals hazardous to humans are spread on fields and forests. Operational limits for high-altitude flights and missions in heavy turbulence and high mountain regions will be defined after appropriate testing.
Aliaksei Stratsilatau explains why the Robinson R22 helicopter was chosen for conversion: "In this project we applied all our knowledge and experience gained during the conversion of the Pipistrel aircraft. The converted Robinson helicopter is very interesting for our potential customers in the growing market of heavy, reliable UAVs. The R22-UV has a low price because the base helicopter is rather cheap. In addition, the operating cost for this aircraft is very low, which makes it attractive for commercial use. The aircraft was certified, and a large number of such helicopters are now in operation all over the world. The customer has access to 95% of spare parts and is able to purchase them at service centers. In addition, Robinson offers basic training for technicians in the training centers."
UAVOS will be exhibiting at the AUVSI Xponential 2019 trade show in Chicago.