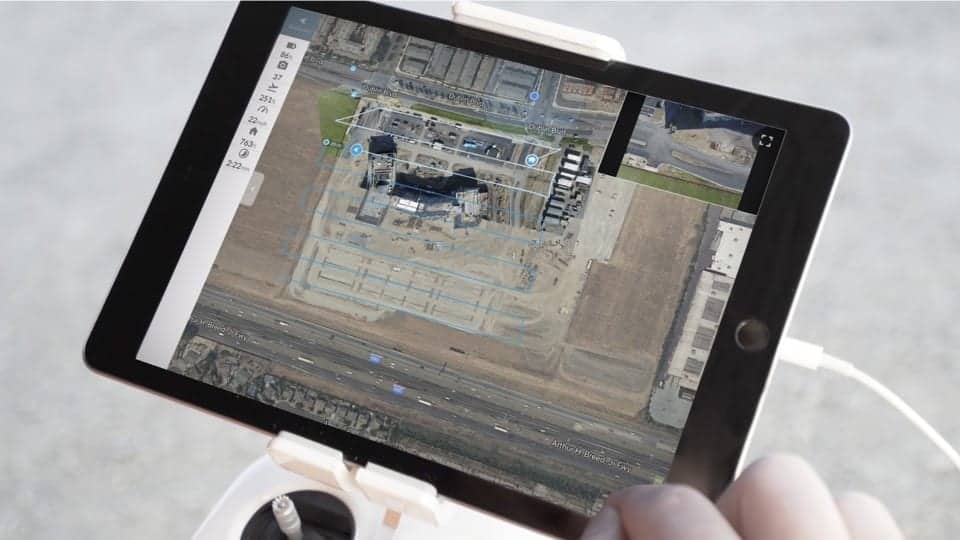 DroneDeploy has announced the release of Live Map — a new feature that allows any UAS (unmanned aerial system) operator to create real-time maps in the field with their iOS device. Users plan a flight, take off, and see maps render on-screen during flight — without the need for internet or cell connection. Users no longer need to experience image upload and processing times traditionally required with mapping and photogrammetry software, and get an aerial view of their job site, field, or project in seconds, which enables them to make real-time decisions.
"Live Map is really the re-imagining of Drone Mapping. There's no SD cards, no uploads and no waiting," said Mike Winn, CEO of DroneDeploy. "Now our customers, from across any industry, can get the data they need, immediately providing the instant insights and enabling them to make real time decisions, right in the field."
Since the original Live Map inception, mobile devices have doubled in computational power — allowing DroneDeploy to improve map quality 400% by leveraging the latest devices and state of the art computer vision algorithms. Users can now instantly turn hundreds of acres into consumable maps and share with collaborators without going back to the office, thanks to instant cloud-syncing across devices. If deeper analysis is necessary, users can also create higher-resolution 2D maps from the same flight data.
Live Map makes high quality, daily mapping feasible. Growers and agronomists can examine crop health, spot stress, and identify storm damage for immediate investigation. Construction professionals can now monitor job sites in real-time and instantly create maps for better reporting, planning, and safety.
"By producing a real-time map of a large construction or solar project, I can stay on top of site progress by counting solar arrays or monitoring progress," said Ryan Moret, a field solutions manager at McCarthy Building Companies. "Live Map helps me end each day with confidence knowing where a project stands and what our subcontractors have completed so that we can provide the best product for our clients."
Live Maps use cases range from coordinating disaster response to assisting police, fire, and rescue efforts for locating missing persons, to documenting conservation efforts.