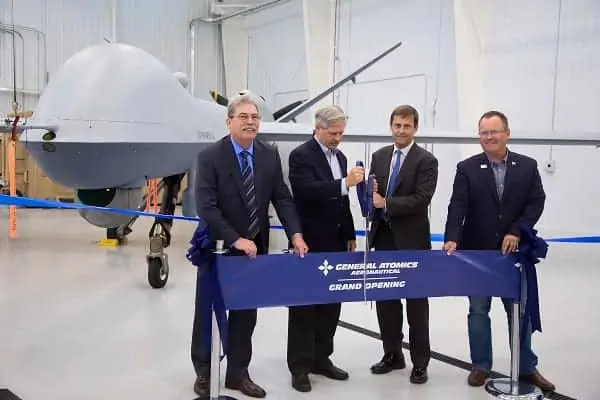 General Atomics Aeronautical Systems has announced that it has opened a new Flight Test and Training Center (FTTC) hangar at the Grand Sky Unmanned Aircraft System (UAS) Business Park near Grand Forks, North Dakota. The hangar replaces the temporary facility that was previously in operation, and will house GA-ASI operational hardware, including Remotely Piloted Aircraft (RPA) and Ground Control Stations (GCS), as well as offices and conference rooms.
"We're excited to open this new permanent hangar for our Flight Test and Training Center in North Dakota," said David R. Alexander, president, Aircraft Systems, GA-ASI. "It represents our investment in test and training capabilities, which will provide our customers with an excellent facility to train aircrews to fly our aircraft."
In addition to Mr. Alexander, the hangar's Grand Opening festivities included remarks from U.S. Senator John Hoeven (R-ND); North Dakota Lieutenant Governor Brent Sanford; Field Representative Matthew Leiphon (U.S. Senator Heidi Heitkamp, D-ND); District Representative Randy Richards (U.S. Representative Kevin Cramer, R-ND); and GA-ASI Chief Executive Officer Linden Blue.
"As our UAS industry continues developing new applications for this technology in both the public and private sectors, it is vital that we have qualified operators for these aircraft," Hoeven said. "General Atomics' new training hangar is an international asset. UAS pilots from around the world will train right here in Grand Forks, further cementing our state's position as a leader in UAS research, training and operations."
The new hangar will house three GA-ASI owned RPA – a MQ-1 Predator A and two MQ-9 Predator Bs/ (Block 1 and Block 5) – and two GCS (a Block 15 and Block 30 Mobile GCS). GA-ASI's FTTC operation also includes an office building located near the University of North Dakota campus that contains classrooms and a Predator Mission Aircrew Training System for accomplishing the academic and simulator segments of training.
"Grand Sky's goal is to create the operations-friendly environment tenants need to expand their capabilities as the UAS industry grows," said Thomas Swoyer Jr., president of Grand Sky Development Company. "From being the first to fly large UAS at the park to being the first to expand their operations, GA-ASI continues to operate at the leading edge of the industry. We're proud to count them as a partner for many years to come."